It's the social season, and 17 year old Emma heads to London, with her family's hope of finding a rich husband weighing heavily on her shoulders. One night, a mysterious man approaches her. A refined handsome face, curly black hair and deep blue eyes… Emma falls in love at first sight and shares with him her first kiss. 12 years later and now a widow, Emma visits the Earl of Greyston to discuss the marriage of her stepdaughter. It is the Earl's younger brother who is betrothed to her stepdaughter, but the Earl never shows himself. While staying there, Emma spots the man she kissed all those years ago in a portrait on the wall…!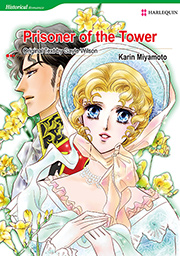 by Karin Miyamoto, Gayle Wilson
Publisher: DMP/eManga/Harlequin K.K./SOFTBANK Creative Corp.
Age Rating: 16+
Genre: Historical, Romance
Price: $4.99 Kindle/Digital Edition
Rating:





I'm not a big romance fan, but when I was given the chance to read some of the Harlequin romances from DMP, I decided to see what all the fuss was about.  For the most part, I found the stories to be entertaining but formulaic.  One story did stand out; Prisoner of the Tower.  This is a historical romance that hits all the right marks.  It captures the feel of  Victorian England without being overbearing, and has characters that are believable and likable at the same time.
Victorian England wasn't the best time or place to be a woman.  Women were treated more as property than people, and were often married off for the benefit of the family than for love, especially among the upper classes.  This is the situation Emma is in when we first meet her.  She is going to the Court at London to find a husband of means that can save her family from ruin.  She knows this and hopes for the best that she will find a man that will be kind to her at least.  But before reaching London, her first kiss is stolen by a mysterious man who is headed off to war.  Neither expect to see each other ever again after that night.
12 years later, Emma is going with her stepdaughter and brother-in-law to meet Earl Greystone and get his permission for her and his younger brother to marry.  Emma wants Jorgina to have a good life with her true love, something she couldn't have herself.  The only thing standing in their way is the Earl himself.  Alexander has no problem with his brother Jamie marrying Jorgina, he just doesn't want to meet with Emma.  Honor was very important to the upper classes, and with his disfigured face, and the disgrace he feels from his time in the war, he doesn't want to face anyone.
Even though it's Jorgina and Jamie that are trying to get the blessings to get married, the story is really about Emma and Alexander getting together.  Both have given up on finding love.  Alexander doesn't believe anyone could love him because of his disfigurement and disgrace, and Emma is ready to just accept the life of a widow and live alone and out of Jorgina's life.  Emma doesn't realize though, that Alexander is her mystery man from all those years before.  What follows is a series of miss communications and missed opportunities as these two star-crossed lovers stumble toward their happy ending.
I really liked the setting of this story.  I enjoy stories where the main characters spur the conventions of their time and/or society, and that is just what Emma is trying to do for Jorgina.  The characters are very well developed, even for a short manga.  They felt real to me, especially with their foibles.  I really wanted to see Emma and Alexander get together, and felt some frustration at their every misstep.  I really wanted to slap Alexander for his assumptions about Emma.  Emma's determination to win over Alexander was well done.  She was strong without being overbearing which fits the time perfectly.
I also really enjoyed the art.  The 70's shojo style with the big, sparkling eyes, flowing hair and elaborate clothing fit the story perfectly.  I was drawn in more because of it.  The only thing that marred the look was the typesetting, which looked like it was typed in with a typewriter.  The font is stiff, and the words don't fit into the text or word bubbles.  But this was the only problem I had with the volume.  It's only available in digital form, either for the Kindle or through eManga.  I can't speak for the Kindle, but the eManga site is very easy and intuitive to use.  The story is also short enough that reading online isn't a bother.  It is smart and well written.  If romances were more like this, I would gladly read them more.
Review copy provided by publisher. Images © Digital Manga Publishing