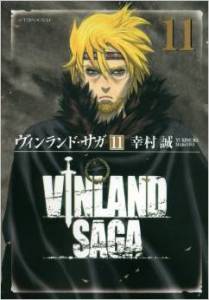 It was recently noticed by readers that online retailers were either pulling or dates were set back for the sixth volume of Kodansha's deluxe hardback title Vinland Saga. On Monday, Kodansha confirmed the title was on "temporary suspension." No reason was given for the suspension, but many people jumped straight to poor sales. Vinland Saga is a seinen title, with a higher price point due to it being a premium edition. This isn't necessarily the reason, but it isn't too far-fetched to believe either. It is more expensive than most manga, and a genre that has been typically a hard sell, even though there have been nothing by rave reviews about it.
While the H-Word (hiatus) hasn't been uttered yet, it seems readers are ready to assume the worse. On at least one forum, one poster was ready to dive by into scanlations, assuming the series was already gone for good. Of course, if poor sales is the issue, this kind of thinking just exasperates the problem and creates a vicious circle of people reading scans, not buying a series, and justifying their reading of scans because no one is buying the series. I don't know that I can completely take fault with people jumping to this conclusion. Too many times, Western readers have been told a series has been "put on hiatus", or "suspended," and it turns out the series has been cancelled or relegated to hiatus-hell. But I do think it's a little early to be crying that the sky is falling. Vinland Saga was close to catching up to the Japanese releases. There are two more volumes, counting this one before we are caught up, and with the series being monthly, it's going to be a while before there is a volume 8 anyway.
For now, I want to believe that Kodansha is considering more than just sales in dealing with this series. Perhaps they are weighing the idea of spreading the releases out further, and have to discuss it with Kodansha Japan and/or the mangaka first. I find this thought much more appealing that seeing this powerful and well-written title go down the hiatus black hole.