When Ruka was younger, she saw a ghost in the water at the aquarium where her dad works. Now she feels drawn toward the aquarium and the two mysterious boys she meets there, Umi and Sora. They were raised by dugongs and hear the same strange calls from the sea as she does.
Sora begins investigating their strange connection to the sea. But the current research is too slow for Sora, who is lured away by with the promise of answers. This leaves Umi severely depressed, and it is up to Ruka to help her new friend find his brother. But time is quickly running out…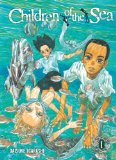 Children of the Sea Volume 1

By Daisuke Igarashi
Publisher: Viz Media
Age Rating: Teen+
Genre: Mystery
Price: $14.95
Rating:





In an attempt to draw in more adult readers, Viz has been expanding their Signature imprint.  The titles in this imprint are meant for a more mature audience that have out grown or aren't interested in the eternal power ups of shonen or the angsty drama of shojo.  Children of the Sea, the first title from the online manga magazine Ikki, is the perfect debut title.  With none of the usual manga conventions, beautifully rendered art, diverse characters, and a compelling mystery, this is a title that both non-manga readers and long time fans will enjoy.