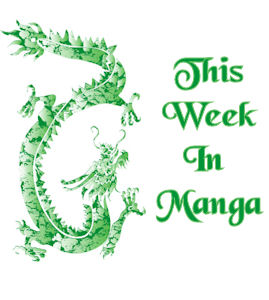 Open Mouth. Insert Foot
Get a bunch of creative people together for a gripe session, and sometimes magic happens! That's what happened on Twitter recently as several manga creators through out their own two cents (yen) about not just illegal uploading, but the people doing it. When someone posted on twitter of having uploaded Rei Hiroe's entire manga Black Lagoon, the mangaka, in jest, wished pancreatic cancer on the uploader. Fellow mangakas Kazuki Kotobuki and Kouta Hirano joined in, coming up with more imaginative forms of death on the uploader. Bet that guy is sorry he tweeted that. I still don't get all this disrespect people want to show the creators of the books they claim to love. While I don't think they need to be worshipped, how about just some common decency? Or is that to outmoded for the 21st century?
Not As Easy As It Looks
People are always complaining about the translations in manga, that it's not literal enough, or that it's too "Americanized".  At SDCC, several translators in the industry got together for the panel Manga: Lost In Translation panel. It features many well known translastors and was moderated by William Flanagan, who is about as old school as manga translations can get. Deb Aoki of Manga.About.Com has a full transcription of the panel. They take on topics such as getting into the business, the above mentioned dreaded localization, and of course, piracy and scans. It's an interesting read, especially about the advocacy many of the translators have for lesser known titles.
There Might Yet Be Hope
In a recent interview with ICv2, co-publishers Dan Dido and Jim Lee spoke about the recent changes at DC, and the subject of CMX and their licenses came up. Specifically, did either man know what was going to happen to them. Lee mentioned they'd had inquiries from "a couple of interested studios that were interested in taking over the role on a couple of books." This then brings up the questions, "Who's asking and for what titles?" I was little surprised that this didn't start a discussion on twitter among manga bloggers. My top pick for doing a rescue would be Tokyopop, as we've seen them do it before. And some of CMX's tween titles seem like they would be a good fit with the company's catalog. Viz has too good of a pick of he crop to be interested in some second tier titles, and we already know Yen Press isn't interested in rescues at all, despite already doing two. So that leaves an interesting quandary as to who else might be interested. DMP? Manga Factory? A completely new player? And what titles? CMX had several licenses that had just started to release or had planned to release such as 51 Ways to Save Her and Stolen Hearts. Are these the targets of the inquiries? Will any of the old school shojo like From Eroica, With Love or Swan get to see their ends? There is some much one can speculate from just a few sentences. The good thing about all this is that DC/Warner Bros is at least interested in getting some of their investment back, and for us fans that might be good news!
Cloud Manga
Dreams of manga on an e-reader are finally starting to come true. Comicloud is a new manga magazine with titles by Japanese artists and are available in both English and Japanese on the Kindle. It's inaugural issue is $4.99 and is available for download now. It currently features four stories and you can download a preview before you buy. Summaries of the stories are available at the magazine's official English website. This is an e-book to watch. If it does well, it might finally prove to publishers that not only is there a market for online manga, but that people will pay for it! And one of the best things about putting it on the Kindle, is that Amazon has enough versions of their Kindle software that just about anyone, with or without a Kindle can read it. It's not the ideal solution, but it is the best we've got at the moment.
NYT Best Seller List
Another week, another best seller list. This week starts with Twilight holding on to #6 on the Hardback list. Over on the manga list, Maximum Ride returns with vol 3 debuting in the #1 spot. Rosario + Vampire Season II vol 2 moves back to #2 to accommodate.  Black Bird vol 5 moves back to #3 along with Naruto vol 48 to # 4. Negima! Magister Negi Magi vol 27 holds on to #5 for its third straight week, with Fullmetal Alchemist vol 23 also keeping its #6 spot. Bakuman vol 1 falls back 3 to #7 along with D. Gray-man vol 18 who moves back two to #8. Vampire Knight vol 10 keeps the #9 spot as does Black Butler vol 2 which keeps its #10. There not a lot of changes this week, the biggest being Skip Beat vol 21 falling off and Maximum Ride taking the top spot.
NYT List: Second Opinion
Now let's take a look at the top ten titles according to Rocket Bomber's Matt Blind:
1. Maximum Ride 3
2. Rosario+Vampire Season II 2
3. Black Bird 5
4. Naruto 48
5. Negima! 27
6. Bleach Color Bleach+: The Official Bootleg
7. Fullmetal Alchemist 23
8. Maximum Ride 1
9. Vampire Knight 10
10. Skip Beat! 21
The top 5 titles on both lists match spot on! I don't know if this is a first, but it is an interesting result. Maybe the NYT list isn't so off as a lot of people have suspected. This is by no means conclusive, but I do see it as being significant. All but three titles are the same between lists. Once again Matt's list favors Maximum Ride over Black Butler, and the NYT tossed Skip Beat to keep Bakuman and D.Gray-man.
Manga For Your Ears
Sesho's Anime and Manga Reviews
This Week at Manga Village
What I'm Reading
MachGoGoGo: Speed Racer vol 1
MachGoGoGo: Speed Racer vol 2
Legend of Zelda: The Phantom Hourglass
Gente vol 1