ANN has two news stories today that make me go "Want Want Want Want!" Two new manga series are starting, or more accurately, re-starting in Japan. And there's probably a better chance of a snowball fight happening in hell before we see either of them in English.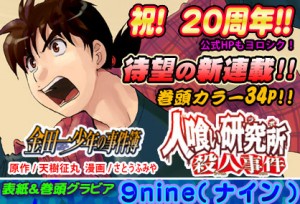 Kindaichi Case Files is a murder mystery series that was originally licensed by Tokyopop. They released 18 volumes and then put the series on hiatus. Then Kodansha yanked the license back, along with all their other titles, leaving fans (few as we may have been) sad and bereft. Another 18 volumes of manga exist that we will probably never see in English since the first attempt did so poorly. Though, I would lay some of that blame on Tokyopop, as they did not market the manga very well. Now, as the series turns 20, the title is returning to the pages of Weekly Shonen Magazine with the same writer and artist team. It was bad enough that I had to lament not being able to read the original series, but now there will be MORE that I won't be able to read?! Kodansha! Bring back Kindaichi Case Files! Even if you just pick up where Tokyopop left off, or even go digital only on Jmanga! Kindaichi Case Files is a fun whodunnit with great characters and mysteries that appeal to the supernatural, but always have a natural explanation. We deserve to get to read more of it!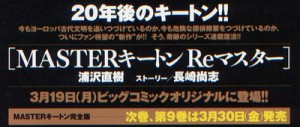 Master Keaton is a manga series I have wanted ever since I first heard about it. The son of a Japanese zoologist and well-born English woman, studies to be an archeologist and solves mysteries. A mystery solving archeologist is sooooo up my alley! Add Naoki Urasawa to the mix, and you have a manga made in heaven! But due to some posturing by both Urasawa and a friend of the original writer, we will probably never see this series in English. It is such a dumb reason to be deprived of what looks like a great series. And now, to add insult to injury, a sequel, Master Keaton Remaster, will be starting in Japan, in Shogakakun's Big Comic Original, 18 years after the first series ended serialization. This is so unfair! Not only is Urasawa returning to draw the manga, but Takashi Nagasaki, who supervised Pluto, another awesome series, will be writing the story. This is just awesome piled on top of awesome! Can I have some hope that since the series is getting a sequel, it might be available for licensing? Do I dare hope such a thing? Viz, omnibus editions of Master Keaton would look so good on my bookshelf. If it is possible, you must make this happen! The English-speaking world should no longer be deprived of this series!