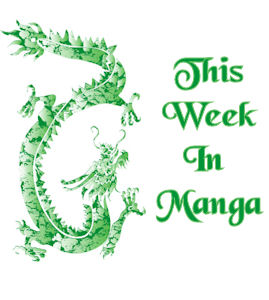 April's Movable Manga Feast
The third edition of the Movable Manga Feast began this week, with Ed Sizemore of Manga Worth Reading taking over the hosting duties. The series this time is Mushishi published by Del Rey Manga. An introduction to the series can be found here, while the full list of participates can be found here. The Feast lasts until Sunday, so keep watching for more posts on the series.  I made my first contribution to the MMF with this series, which you can read here. If you have had any interest in this series, definitely check out some of the perspectives on it. You might be surprised.
How Much would you Pay?
Last week Yen Press announced they would be publishing Yen Plus as a digital magazine. This week Deb Aoki of Manga.About.Com has a poll asking how much would you pay for an online anthology. The results so far aren't too surprising. I myself wouldn't pay more than $5 for an online magazine the size of Yen Plus since I don't enjoy reading manga online. I need it to be portable and an e-reader or tablet isn't in my future anytime soon. What this poll does show is summed up pretty well by a comment made by David Welsh (@mangacur) on Twitter:
Just that manga purchasers seem kind of like public radio members these days. They opt to pay.
And just like public radio, it's too bad more people don't opt to pay as enjoy the content.
Chibi Vampire: Axis Powers
Tokyopop has been putting their Facebook page to use by announcing new licenses on it first.  Last week came word of a new Chibi Vampire (Karin) volume called Airmail, that is comprised of short stories published after the main series ended. It will include side stories about the main characters as well as stories about some that were never seen. This week finally comes the announcement every has suspected but hadn't been able to confirm.  Tokyopop will be publishing the Hetalia: Axis Powers manga. Hints have been coming from the publisher for a while now, but it was made official on Friday.
Go Comi! Forums Down…But Are They Out?
Go Comi! is a publisher that a lot of people have worried about lately. They've been quiet, maybe too quiet. Kate Dacey of The Manga Critic caught on Twitter that their forums are down. This isn't a good sign. Their blog has been silent since the fall, and their twitter account hasn't seen an update since February. The forums was the last place we heard anything from the publisher and with it gone…maybe that ad a few weeks ago for a manga publisher for sale was Go Comi! I do hope it isn't. They have some good titles that many would like to see finished.
NY Times Best Seller List
The balance of power shifts once more with new releases from Yen Press on this week's list. First, let's check on Twilight. Still #1 on the Hardback list? No?? The Hardback of Kick Ass, which debuted in theaters recently, has taken #1, relegating Twilight to #2. The Paperback list has another movie related title at #1 with Losers. Comics do benefit from movie tie-ins. We'll see how long it lasts.  Over in manga land, #1 belongs to Rosario Vampire Season II vol 1 once again. Yotsuba& vol 8 debuts at #2, sending Naruto vol 47 back one to #3. Spice and Wolf  vol 1 also debuts at #4, and Black Butler vol 1 move up one to #5. Gentlemen's Alliance Cross vol 11 falls three to #6 as does Yu-Gi-Oh! R vol 4 to #7. Nightschool vol 3 debuts at #8, Alice in the Country of Hearts vol 1 returns once again to #9 and Soul Eater vol 2 falls back one to #10. It's quite a respectable showing for Yen Press, with 3 debuts, including an OEL title that not based on a novel series.  They dominate with 5/10, and three of those being in the top 5.
Manga For Your Ears
Sci-Guys Podcast
Episode 20 – 27:43 – Twin Spica/Vampire Hunter D on the PSP
This Week at Manga Village
What I'm Reading
Black Bird vol 3
Black Bird vol 4
Goong vol 2
Goong vol 3