Kosei Arima was a piano prodigy until his cruel taskmaster of a mother died suddenly, changing his life forever. Driven by his pain to abandon piano, Kosei now lives in a monotonous, colorless world. Having resigned himself to a bland life, he is surprised when he meets Kaori Miyazono, a violinist with an unorthodox style. Can she bring Kosei back to music, and back to life?
Your Lie in April Volume 1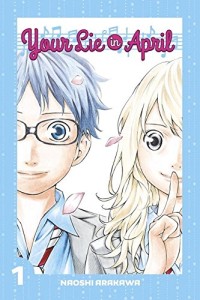 By Naoshi Arakawa
Publisher: Kodansha Comics
Age Rating: Teen
Genre: Drama
Price: $10.99
Rating:





I knew nothing about Your Lie in April when it was first announced other than it was a musical title that was often compared to Nodame Cantible, a musical title that featured a straight-laced violist/pianist as the male lead, and a highly unorthodox pianist as the female lead. Having now read Your Lie in April, the fact that the two leads are a violist and pianist with one being straight-laced and the other unorthodox, the two stories really have nothing to do with each other.
Playing the piano was everything to Kosei Arima. He lived and breathed playing to please his mother, who was determined he would become the great pianist she was. But when she died, in a way, so did Kosei. Her dream was his dream. Without her, he had no reason to live. No dream of his own. He has been stuck, marking time, unable to move forward. Kosei is haunted by the piano. He can no long hear himself playing, but he also can't move on from it. His life is the same, day in and day out.
Then he meets Kaori Miyazono. She is the classmate of his childhood friend Tsubaki. Kaori wants to meet their mutual friend Watari, and Tsubaki gets Kosei to tag along. Kaori is the opposite of Kosei in many ways. She is full of life, always smiling and energetic. She performs in much the same way. She participates in a competition, but plays the assigned piece her own way, ignoring the tempo and even her own accompanist. She isn't playing to impress the judges, but to entertain the audience and have fun all at the same time.
I really liked both Kosei and Kaori. They don't get off on the best foot at first, but Kaori ends up making a big impression on Kosei. Her performance is the opposite of everything his mother told him it should be like, and he has a hard time processing it. Kaori becomes kind of obsessed with Kosei, determined to make him her accompanist for the next round of the competition. I really liked that she didn't feel sorry for Kosei when he told her about how he can no longer hear the piano. Her reaction was great, and pretty much the same as mine. I also liked that Kosei didn't automatically assume the feelings he was starting to have for Kaori was love, but instead thought there were inspiration.
Tsubaki and Watari, their friends, make good supporting characters. They both support Kosei in their own ways. Tsubaki cares for Kosei like a little brother, and just wants to help him move on with his life, in whatever direction it takes him. I loved the way she plotted with Kaori to try to convince him to be her accompanist. Watari, despite being a bit of a playboy, has some insightful things to say to Kosei about life and specifically girls. His words have a surprising impact on Kosei.
Your Lie in April vol 1 was a really fun read. The art is well done. The characters were all portrayed very playfully. Kaori was always playful. I loved when she knocked Kosei away from the cat he was feeding so she could pet it. Tsubaki had some good moments with trying to get Kosei to lighten up and Watari was funny when he got a text from another girl. The final scene of the manga, with the four friends rushing off to the competition was another wonderful scene, filled with exuberance. It was a strong ending to a strong first volume. I can't wait to read more.