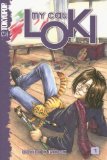 Recently over at Anime News Network, artist Bettina Kurkoski was featured in their The Gallery column.  I read this, as I like Bettina's work.  I really enjoyed her OEL manga, My Cat Loki, buying the volumes after reading the first volume on line.  Yes, I like it that much.  In the article was of course links to Bettina's home page and Deviant Art page.  Of course I had to check those out.  In the updates of the Deviant Art page at the time, Bettina was asking about KA-BLAM, a printer that specializes in comic books.  She is doing this so her fans can finally get the rest of My Cat Loki.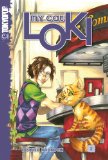 I think this is so awesome, that Bettina is looking for ways to finish My Cat Loki for the fans.  Even though Tokyopop is giving some fans a chance to read the end of their favorite titles with their Wednesday online comics, it's even cooler when the creator does this.  She's already put out some MCL works with sketchbooks for sale at cons (that I can't go to), but seeing this title complete would be the best.  It's such a wonderful and touching story that it really deserves a proper ending.  It's too bad that Tokyopop didn't give it the time and attention it deserved.
I do hope the final volume of My Cat Loki sees the light of day somehow.  Bettina has at least one guaranteed sale right here.