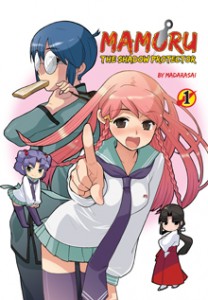 Mamoru: The Shadow Protector Volume 1
– 2

By Sai Madara
Publisher: DR Master Publications
Age Rating: 13+
Genre: Comedy
Price: $9.95
Rating:





Volume 1 Summary:
Mamoru Kagemori is a dull high school boy who's not handsome, athletic or intelligent.  but things aren't always what they appear.  He's actually the eldest son of a 400-year-old Ninja clan that specializes in protecting their neighbors, the Konnyakus.  And the object of Mamoru's protection is none other than their only daughter, Yuna Konnyaku, a natural-born troublemaker.  Mamoru must continue to protect her to carry out his duty, no matter what adversaries strong, bizarre or stupid.  And will Yuna ever learn who her protector is?
Volume 2 Summary:
When Yuna enters an idol contest and makes it to the finals, despite her hilariously bizarre performance.  Mamoru has to go all out with his ninja skills in order to fend off perverted judges and crazed fans!  But if Yuna becomes an idol will Mamoru still be able to protect her?
Mamoru: The Shadow Protector is a lot like it's main character.  It starts out showing you a fun-filled romantic comedy, heavy on the comedy, but then like a ninja, tries to switch out into a harem comedy, where the laughs fall flatter than a dull shuriken.
Continue reading Review: Mamoru The Shadow Protector Volumes 1-2 →