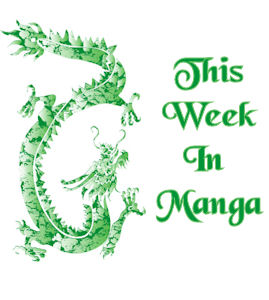 Twitter This
The week started out with a bang, and just kept on going! Seven Seas started it off with license announcements on Twitter in anagram form with one clue. All three were guessed correctly by ANN and confirmed by Tuesday, the day of the last announcement. The three titles are ToraDora, Amnesia Labyrinth, and A Certain Scientific Railgun. Two of these titles have anime tie-ins, with ToraDora having already released its first disc earlier this month, and Funimation just announcing the license of A Certain Scientific Railgun at this past Anime Expo. Amnesia Labyrinth also has ties to a previously published work. Nagaru Tanigawa, who is the author of the Melancholy of Suzumiya Haruhi light novels, is also the author of this series. Most of these titles came from ASCII Media Works, which Seven Seas seems to be mining. I'm definitely interested in Amnesia Labyrinth, and not just because it's by the author of the Haruhi books, which I've enjoyed the manga of, but it's also a mystery. And we can't get enough of those!
One Manga Down, 1000 Manga To Go
Wednesday, One Manga, the top scanlation aggregator site on the web announced it would be taking down ALL manga, not just titles licensed/owned by coalition members. This was quite a surprise as visitors were greeted with a pop-up message explaining the situation before they even got to any titles. They intend to keep their forums up and running, but it remains to be seen if anyone will still come around with all the manga gone. Reactions to the shut down have been varied and quite frankly extreme in some cases, as a perusal of the comments section of the manga.about.com article shows:
I have not stopped crying since i heard about this yesterday.. what am i going to do from now on?.. my reason to live from one Friday to the next is now gone.. i am deeply saddened.

What am i gonna do with the 36 series' that I'm curetly reading right now? Im addicted. At 13 I fail to see anything more important than manga right now.. I seriously feel like someone close to me has a fatal disease, and that person is slowly crawling to their death.
Yeah…okay. I love manga too, but it's not the be all, end all of my life. I was disappointed when some of my favorite titles were cancelled thanks to Kodansha yanking them from Tokyopop, but the world didn't end because of it. And the world won't end now without One Manga or 1000 Manga, or any of the other aggregators that may go down. I know teens like to be melodramatic and all, but sheesh! It's just manga guys!
What Goes Down Must Come Up
The same day that One Manga announces its demise, Square Enix announces a new digital manga store for NA and France.  The site will go live in the Fall, but a preview with the first chapters of Fullmetal Alchemist, Black Butler, Soul Eater and O-Parts Hunter (666 Satan) are available right now for download. They are also running demos at their booth at SDCC. This is an interesting development, since Square Enix doesn't license to just one company here in the US. The four titles mentioned are split between Yen Press and Viz, but both manga publishers have said they are working with Square Enix in this endeavour. No price has been set yet, but it is nice to another publisher not only making titles available online, but to also be portable.
SDCC is Here!
That right, the San Diego Comic Con started this week. And it started off at a run. Wednesday is dubbed Preview Night, where the exhibit hall is open in the evening, and Vertical wasted no time in announcing a license and the first official one of the con. They will be releasing Lychee Light Club, by Usamaru Furuya, who is also the author of the highly anticipated 51 Ways to Save Her, which was announced at last SDCC by CMX, and cancelled before the first volume could be released. It's a single volume and is about some students at an all boys school who create a robot to find beautiful women but run into a problem when the robot become sentient.
The first official day of the con brought more licenses. At the Bandai Entertainment panel, Kannagi: Crazy Shrine Maidens was announced. Not too surprising, since it was a cult hit on the internet and the anime has already been released. Top Shelf, a comics publisher announced it would be releasing Cigarette Girl, a collection of short stories from an early artist of the gekiga movement, Masahiko Matsumoto. There were several manga related panels that ANN covered; Manga For Grown Ups, Best and Worst Manga 2010, and Manga: Lost in Translation.
Friday brought the Yen Press Panel, which had more new licenses to announce. Aron's Absurd Armada, High School of the Dead, Higurashi: When They Cry: Demon Exposing Arc, and Otoyome-Gatari: The Bride's Story. High School of the Dead is another no brainer as its anime was licensed and announced at Anime Expo. Fans were happy to hear about Otoyome-Gatari. It's the new title from Kaoru Mori, the mangaka of Emma. It sounds like it with get the Twilight treatment with a hardback, larger size treatment.
Yen also finally revealed the fate of Yen Plus. It has its own website which has gone live with a beta. Most of the titles up right now are Yen's original titles; Maximum Ride, Nightschool, Gossip Girl, and the first 2 chapters of Daniel X. Two Korean titles from the print magazine are there now, Time and Again and Jack Frost, and a special short story, Haunted House Call from the creator of Hollow Fields, Madeleine Rosca. There are no Japanese titles at the moment, but if you go back up one story you may see why for at least two of them. The cost will be $2.99 a month, paid by Paypal subscription, and will keep the last two recent issues available.  This is looking like a good deal and the reader on the computer isn't bad. It's not flash-based, so the reader may be friendly for mobile devices. Some have said that teens will be left out because of the online payment, but any parents who refuse their kids a $2.99 investment for them to read is doing them a great disservice.
Manga related panels included The Future of Manga with Jason Thompson and Dallas Middaugh was on Publishing Comics representing Del Rey. Del Rey didn't have a panel at the show this year and with the news of Ali Kokmen, the marketing manager who did a lot of to get Del Rey Manga going being laid off, makes more real the speculation that Del Rey is winding down their manga division. Sony held a panel on their adaptation of the Tokyopop published manhwa Priest, and Moto Hagio had a focus panel where she was also presented CCI's Inkpot award.
NYT Best Seller List
It's that time again, so let's look at what's going on with this week's list of  best sellers. And a check of the Hardback list shows…What?! No Twilight at #1? Who's this green dude that's taken the first three spots, leaving Twilight to come in at #4? Bahhhh.  Over on the manga list, Naruto vol 48 retakes it's #1 spot from Ouran High School Host Club vol 14, which falls to #2. Vampire Knight vol 10 moves back up to #3 with Black Butler vol 2 right behind at #4. New comer Black Lagoon vol 9 debuts at #5 while The Last AirBender falls another 2 to #6. Black Butler vol 1 moves back up one to #7 while another debut, Inuyasha vol 50 arrivals at #8. Soul Eater vol 3 is another newbie arriving at #9 while One Piece vol 54 holds on but falls 7 to #10. Viz hold a majority of 6/10 on the list with Yen Press' strongest titles holding 3/10. Black Lagoon is a surprise as a more adult title, but is very welcome addition. It would be nice to see more adult titles taking on the massive teen machines of Naruto and Vampire Knight.
NYT Best Sellers: Second Opinion
A lot of people question the New York Times Best Seller List for its accuracy. They never full explain where they get their numbers from, so there's plenty of doubt about how real they are. One person to not only feel that way, but does something about it Matt Blind of Rocket Bomber. He compiles his own list and explains exactly where the numbers come from. So, here's a comparison of the this week's lists:
Naruto vol 48                                                                                              1.  Naruto vol 48
Ouran High School Host Club vol 14                                                    2. Ouran High School Host Club vol 14
Vampire Knight vol 10                                                                              3. Vampire Knight vol 10
Black Butler vol 2                                                                                       4.  Hellsing vol 10
Black Lagoon vol 9                                                                                    5. Maximum Ride vol 1
Last Air Bender                                                                                          6. Naruto vol 47
Black Butler vol 1                                                                                       7. Maximum Ride vol 2
Inuyasha vol 50                                                                                          8. Bleach vol 31
Soul Eater vol 3                                                                                          9. One Piece vol 54
One Piece vol 54                                                                                      10. Negima! vol 26
It's an interesting comparison when seen side by side. The top three are the same, but Maximum Ride is missing from the NYT, and Black Butler is missing from RB. Interesting exchange, but from same company. Viz still holds 6 spots, while Yen is down to 2. Adult comics still get their representation on th RB with Hellsing, but there's no Last Air Bender. It will be interesting to continue to do these comparison and see if/how things change between them.
This Week At Manga Village
What I'm Reading
Black Butler vol 2
Fairy Nagivator Runa vol 1
Dramacon vol 3