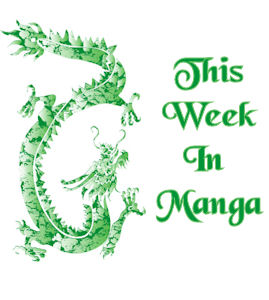 Do you "Size" Up?
Inspired by a conversation on Twitter about what it means to be a fan, Ed Sizemore of the Manga Worth Reading blog tries to clarify his position. I bring this up because there has been a lot of talk about digital piracy and it's effects on manga publishers. Ed's view is basically that you can only call yourself a fan if you invest yourself, time and money, in the thing that you love. While I can see where he's coming from, I can't say I completely agree with his position. I don't think there should be parameters put on what makes someone a fan of something. Being a fan of something, whether it's TV, movies, or manga, shouldn't be contingent on how much time you spend talking up a show or buying everything sight that branded with it. I'm a fan of Castle, but I don't feel a burning need to buy the book or DVDs. I'm fine with watching the show every week. Does that make me less of a fan than someone who makes Lego Castle and Beckett figures? I don't think so. By the same token, people or borrow manga from a friend or the library can still be fans of manga without actually buying the books, or obsessing over them. I would say you could start to draw the line at people who read licensed material at illegal aggregator sites, but I would still be reluctant to do so. Stealing the material doesn't mean you're still not a fan.  You're just a bad fan. Trying to put up walls about what makes someone a fan will only keep more people out than what should be the desired effect, to get more people in.
When It Rains, It Pours
What a depressing way to come home from work. The news about DC pulling the plug on CMX not only shocked me, it completely ruined my week. Yes, the news of other publishers going under was sad, but most of them hadn't released a title in at least 6 months, some longer. CMX was not only continuing to release titles, they were putting up new titles.  They were active on Twitter. There was nothing, no sign to indicate that there was a problem. The way it looks is that DC is run by a bunch of asshats who don't like anything that doesn't appeal to the male 13-21 demographic, and if anything like that still exists at the company, it must be stamped out immediately.  But don't just take my word for it. Check out the many articles and blog posts people have written about it, expressing their feelings as well. DC really struck a nerve with this one, and not in a good way. But that's "business as usual" for them, isn't it?
Cross Game Online
On Monday, Viz started the serialization of Cross Game, a coming of age story and the game of baseball. The first two chapters are up and can be read for free online. I guess Viz's experiment with online manga is working for them, or else we wouldn't keep seeing new titles being introduced. I'm curious to see how successful this title turns out to be. Sports manga hasn't traditionally done well in the US, despite us being a very sports oriented culture.
Peer Pressure
Manga companies and fans alike would do well to listen to the words of Audrey Taylor, former creative director of Go! Comi. She delves out some advice from her experience at Go! Comi, much of which has been said before, but perhaps coming from a fellow publisher, the words won't go unheeded. While most of the advice is directed at publishers, readers can take something away from her words too. Once a book has been licensed and published, you don't need to "build an audience" for it anymore. Posting legal copies online DOES hurt the company you are supposedly trying to help. If you want to "build an audience" then promote the publisher. Don't scan their book to put online, and don't continue to scanlate them. I know some people will claim they have to keep scanlating since there's no guarantee the publisher will complete the series, but that's just a self-fulfilling prophesy. By continuing to make illegal copies available, less people will buy the books, which makes it harder for the publisher to stay in business, so that when they go out of business you can justify your illegal acts.
Tokyopop-ing Up
Finally we are seeing some progress from Tokyopop's restructuring from 2 years ago. First TP announced a film based on the manhwa Priest, and now they have plans in the works for The Dreaming, an OEL manga by Queenie-Chan, to become a film.  It will be interesting to see if this venture pans out. The Priest production has gone through a lot to get to a release date. Hopefully, The Dreaming won't have the same problems.
Two possible new licenses were also sighted on Amazon this week, purported to be coming from Tokyopop. Both are shojo titles from Hakusensha. Sorairo Kaigen is a high school romance about a girl who is rescued on a bus by a boy who may be from her past. It's complete at 6 volumes. Kirameki Gingachou Shoutengai is a little long at 10 volumes and is a romantic comedy about 6 friends who grew up in the Galaxy Street Shopping Center. Both look interesting, and with the loss of CMX, we need a new source of Hakusensha titles.
NYT Best Seller List
Viz holds 8 of the 10 titles on this week's list again, and it's back to business as usual. First, over in the hardback comics list, Kick-Ass and Twilight have switched places again, with Twilight falling back to #2.  Over on the manga list, Black Bird vol 4 keeps hold of the #1 spot for a second week, while Naruto vol 47 returns after a brief stint off last week at #2. D.Gray-man vol 17 holds on to #3 and Inuyasha vol 48 debuts at #4. Black Butler vol 1, one of the two non-Viz titles, returns at #5 as does Rosario Vampire: Season II vol 1 at #6. Falling 5 spots to #7 is Otomen vol 6, while Viz Signature title Biomega vol 2 debuts at #8. Yotsuba&! vol 8, the othe non-Viz title falls back 4 to #9, and only one One Piece, vol 46, hangs onto the list at #10. So Viz continues to dominate with Yen Press being the only other publisher able to hold their own against them week to week. Most of the changes are in which Viz titles will make it to the list, and while not a lot of changes are surprises, it's nice to see some of the older titles like Inuyasha charting, as well as a Signature title.
Manga For Your Ears
Manga Out Loud
Sci-Guys Podcast
Spiraken Manga Reviews
This Week at Manga Village
What I'm Reading
Otodama v1
Antique Bakery v1-2
Dinosaur King 1-2