With Mother's Day this Sunday, all the ads lately have been about what to get Mom. One common element I've seen (beyond the usual of appliances, jewelry, and gardening) is e-readers. Amazon.com has the Kindle on their front page again, touting how it's the perfect gift for Mom. It's $259 for the 6″ screen, and includes a wireless connection to Amazon for instant downloading (and gratification).
Sony, maker of the e-Reader, has been pushing it's low end reader, the Pocket Edition, which has the least number of features. You can find this device at Office Depot, Staples and Best Buy going for $149 through Mother's Day. You have to connect it to a computer to get the e-books on it, but it also now comes in a "special" pink edition. Ooooo…. Yeah, I'm not impressed by that either. I've looked over the Pocket Edition, and wasn't really impressed with it compared to it's price. But it's the least expensive e-ink device out right now.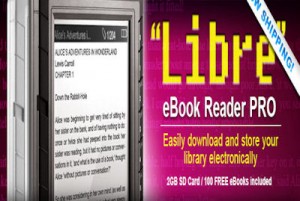 Then, I found out about a new device. The Aluratek Libre e-Reader. It's a low tech e-reader, that's also low priced. Online it can be found for around $150, but K-Mart will have it for only $120 through this weekend. It has all the basic function of an e-reader, but the big difference on this device is that it doesn't use e-ink. It's actually a black & white LCD screen they call e-paper. The plus about this is that there isn't the flash that e-ink devices have on page turns, and it's still fairly quick. It also can view images and play mp3s, even while you're reading, something the other don't do. It comes with a 2Gig SD card with 100 public domain books on it to start. It's rather stripped down like the Sony Pocket Edition. What makes this a better device (to me) is the SD card slot, and lower price. With the Libre, you can have different SD cards for different reading material. One for e-books, one for images (or comics), and one for audio books (or mp3 if you perfer. That makes this a more versatile device, even if it can't go online.
For someone that just wants to read ebooks and doesn't need a backlit screen, dictionary, make annotations, or go online, you know like the experience a paper book gives you, this actually looks like a pretty good deal. It's not difficult to use, so non-tech savvy moms that want to get in on the e-book revolution can with little work. Aluratek also has a step-by-step guide to getting books from ebooks.com, and comments on product reviews of this device suggest that it will read ebooks borrowed through libraries. Here's a fairly thorough review of the device:
Think carefully about what your Mother would want and/or could handle. Don't buy what you think she would want. An e-Reader is a personal device, much like a book. It needs to be tailored to the reader's needs. Don't go for all the bells and whistles just because that's what YOU would want. You want what you give Mom to be used and appreciated, and not left in the box, stuffed in a corner of the closet because she doesn't want to hurt your feelings by returning it or giving it away. It's Mother's Day for a reason. Make sure it's something she wants.