Mountaineer Shiga made a promise to his best friend following his tragic death in the Himalayas. Twelve years later and he is called upon to honor that promise. When 15-year-old student, Megumi, fails to arrive home from school her mother calls on her dead husband's best friend for help. Shiga abandons his mountain refuge and enters the city to look for the girl. With the police investigation at a standstill, Shiga decides to go it alone. But the metropolis can be a much more hostile and dangerous ground than the mountains. What has happened to the youngster and will Shiga find her before it is too late? Multi-award winning creator, Jiro Taniguchi, builds the tension to a massive climax in this exciting drama!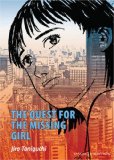 By Jiro Taniguchi
Publisher: Ponent Mon
Age Rating: Older Teen
Genre: Drama
Price: $25.00
Rating:





I wasn't entirely sure I wanted to participate in this month's Manga Movable Feast. While I'd heard of Jiro Taniguchi and seen reviewers rave about his work, none of his titles really seemed to interest me. But once I went through a full list of his titles available in English, the first I found that looked interesting was Samurai Legend, which was drawn by him. But I wanted to read a title that he had both written and drawn for the MMF, and that's when I came upon this title. I enjoy a good mystery, but The Quest for the Missing Girl is more than that.
The Quest for the Missing Girl isn't strictly a mystery. It's a character study wrapped in a mystery. Megumi's disappearance is just an excuse to get Shiga off his mountain and involved again with her and her mother Yoriko, the widow of his best friend, Tatsuko. Tatsuko died while climbing Mt Daulaghiri, so Shiga feels some survivor's guilt since he had turned down Tatsuko's offer to join him on the climb. And that is really what is at the heart of this story. As Shiga searches for Megumi, he is also dealing with memories and feelings that he had pushed aside. Throughout the story, there are flashbacks about Tatsuko and Yoriko deciding to get married, Tatsuko deciding to do the one last climb on Mt. Daulaghiri, and Yoriko and Shiga claiming Tatsuko's body, as well as a younger Megumi climbing with Shiga. There is the distinct feeling that Shiga had feelings for Yoriko as well, and that he didn't approve of Tatsuko climbing again after promising to not to when he and Yoriko married. It's these feelings that lead to the regret that later rules him. It takes climbing his own Daulaghiri, Oribe Element building, to finally overcome his guilt and regret.
The mystery itself is pretty standard. Shiga has to play detective, talking to Megumi's friends, wandering around Shibuya, finding the clues and making the connections the police can't because of Oribe's power and status. A subplot to this is "compensated dating" that Megumi is involved in. Taniguchi gets a little heavy-handed with it, almost lecturing adults and parents that the reason girls get involved with these older men is because they feel unloved at home. But this might also be the point, since Yoriko is shown as not being aware of Megumi's activities, other parents might not be as well, and this story can serve as a warning.
Besides Shiga and Yoriko, there are some great characters in this title. Maki, Megumi's "bad girl" friend is nicely complex. She starts out being very annoying, but slowly opens up to Shiga, especially after he promises to become her champion as well. I really like Yoshio, the man who helps Shiga navigate the teen scene in Shibuya. He's open and honest, and can see Shiga sincerity. I really liked who he could relate to the kids without trying to "be" one of them, and it gains their trust more than anything else. The villain of the story Takuya Oribe is shown as a manipulative, abusive man who is ultimately a coward that uses the power of his corporation as a shield. His character is definitely a damning of the way corporations, and not just in Japan, can get away with so much.
I enjoyed all the elements of this story. All of the different layers made it much better than just the mystery is appears to be on the surface. Taniguchi proves himself to be just a good as storyteller as an artist. The awkwardness between Shiga and Yoriko is almost palatable. The way they continue to be formal with each other, despite all the tragedy they have shared shows there are still unresolved issues between them, though the end gives hope that they soon will be.The art is as well done as the story. The wide variety of character designs is refreshing. I love the way he draws Shiga glaring when he gets into scrapes.
If you pick up The Quest for the Missing Girl just expecting a straight mystery, you are going to be disappointed. But if you allow yourself to look deeper into the characters, you will find a rich, satisfying story. While it does have its predictable moments, they do not in any way detract from the story. I'm glad I decided to give this title and mangaka a try. it just might lead to me reading more of his work.