When college freshman and future psychotherapist Kazuma Futaba responds to a curious call for a room to let, he ends up living in a mansion owned by Emiru, a frail beauty his own age. Although neighborhood kids call the place haunted, if anything the young mistress nurses a darker affliction. Kazuma learns that his young landlord and love isn't who he thought she was. Aided by Danish thinker Kierkegaard's titular proto-existentialist treatise, the future counselor finds a way forward.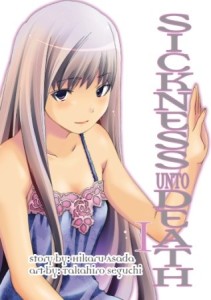 Story by Hikaru Asada; Art by Takahiro Seguchi
Publisher: Vertical, Inc.
Age Rating: Older Teen
Genre: Romance/Psychological drama
Price: $11.95
[Rating4.5]
Sickness Unto Death starts out by misleading the reader into thinking the story has a supernatural spin, but turns it back around with a compelling and completely natural twist. While the psychological drama dominates the story, at it's core, it's really a tragic love story.
The story starts with Futaba, a practicing psychotherapist and instructor, visiting a grave with no name or inscription. He is found by a student, Minami, and proceeds to tell the story of Emiru, a young woman he met when he first started college, who is slowly wasting away due to some great despair that plagues her. In the first volume, there is a sense that something supernatural is going on. Emiru speaks of a ghost living in the house and being responsible for drawing on her bedroom wall. Combined with the grave at the opening and it's easy to assume that there's a supernatural element to the story.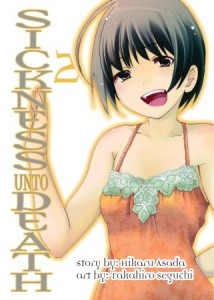 The second volume plays on this and throws out a twist that not only makes perfect sense, puts everything in the first volume into perspective. It's an explanation that shows not just how fragile the human psyche can be, but how desperate we can be to be to want to live and remembered. I was riveted by this part of the story. The whole psychology and how it played with the title and Kierkegaard's treatise was fascinating.
Tied in with all of this was the love story between Futaba and Emiru. She was his first love, and it appears to be one he has not gotten over. Their feelings for each other go beyond the physical, though they do enjoy each other's company a lot. But there is a quiet desperation to their time together, especially from Emiru. As the truth is revealed, the tragedy of their love just becomes more heart-breaking as Futaba becomes more desperate for it not to end while Emiru becomes more resigned.
Sickness Unto Death is a powerful story about love and accepting ourselves, both the bad and the good. Part of that is being accepted by those around us and more importantly, that we won't be forgotten after we are gone. While the love story has a tragic ending, the story as a whole is inspiring and ultimately uplifting. I highly recommend this title.