My how time flies!  I can't believe Easter is already upon us!  Ah, that springtime holiday where everyone buys big, flowery hats, kids color eggs and get baskets from the Easter Bunny.  So, in honor of this spring holiday that's never on the same day every year, here are some rabbits in manga.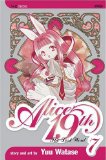 Alice 19th
– This is a shojo series by Yuu Watase.  Set in modern times, it's about Alice, a girl forever
living in her older sister's shadow.  During a fight over a boy, Alice's sister, Mayura disappears.  She is a Lotus Master, someone who can use the power of words to enter the inner heart of others.  Alice has accidentally sent her sister to the darkness, and must now master her power to save her.  Alice is told all this by Nyozeka, a white rabbit she saves at the risk of her own life.  This is a relatively short series at 7 volumes.  It's the only modern-day setting manga by Watase that I like.  I really like the idea of using the power of words to either help or hurt others.  While not a great series, it's an enjoyable one and worth the time to read.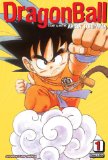 Dragon Ball
– Ah, Akira Toriyama's masterpiece manga.  And I mean the first 16 volumes only.  At the beginning of the series, as Goku, Bulma, and Oolong search for the dragon balls, they

come to this town that is being terrorized by a most unusual boss.  Monster Carrot rules the town with his gang, The Rabbits.  Anyone that gets in Monster Carrot's way gets a taste of his special power.  One touch and they are turned into a carrot!  For fun action and comedy, read only the Dragon Ball saga.  It really is good, and when people say they hate Dragon Ball, this isn't what they are talking about.  This is Toriyama at his best.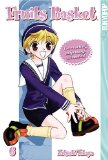 Fruits Basket
– This is an incredibly popular shojo manga, just setting to complete here in the US.  Tohru Honda is an orphan, after losing her mother in a car accident.  She lives in a tent in the forest that happens to be on the land of the most popular boy in school, Yuki Sohma.  The Sohma family is cursed

by the animals of the Chinese Zodiac.  When they are hugged by a member of the opposite sex that isn't part of the curse, they turn into the Zodiac animal.  Tohru comes to live in the Sohma house, where she shows them that not everyone will be repelled by the curse, and give them hope of breaking the curse.  Among the Chinese Zodiac is the rabbit.  Momiji Sohma is possessed by the spirit of the rabbit.  He is a cute, cheerful boy with an androgynous appearance.
Happy Happy Clover
– This is an all ages manga written for kids.  Clover the Bunny lives in Crescent Forest, and is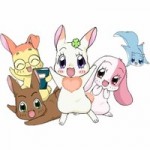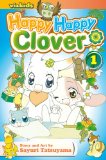 always making mischief with her friends.  It's filled with cute, furry animals and follows their adventures.  The stories are cute, with Clover learning something new in every one.  Getting along with her friends, dealing with disappointment and finding that there are consequences to her actions, all good lessons for kids.  While this is very much a girl's manga, younger boys (4-6) may appreciate the cute animals and their fun adventures.  There's only one volume out so far, with the second set to come out in June.