Average student Moritaka Mashiro enjoys drawing for fun. When his classmate and aspiring writer Akito Takagi discovers his talent, he begs Moirtaka to team up with him as a manga-creating duo. But what exactly does it take to make it in the manga-publishing world?
Moritaka is hesitant to seriously consider Akitos proposal because he knows how difficult reaching the professional level can be. Still, encouragement from persisitent Akito and movitvation from his crush push Moritaka to test his limits!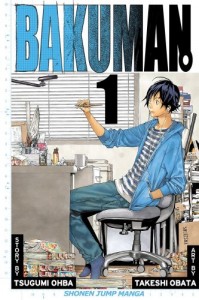 Stoy by Tsugumi Ohba; Art by Takeshi Obata
Publisher: Viz Media – Shonen Jump
Age Rating: Teen
Genre: Comedy/Drama
Price: $9.99
Rating:






Buy This Book
Moritaka knows it isn't easy to become a successful manga creator. He watched his uncle try to die from overwork in the attempt. Akito, his classmate, knows next to nothing about creating manga, but thinks he's smart enough to learn and succeed. Miho is another classmate that Moritaka has a crush on, and who wants to become a voice actor. The three of them make a pact. If Moritaka and Akito make their dream of becoming successful manga creators come true before Miho becomes a voice actor, Miho will marry Moritaka. This starts the two boys down a whirlwind journey to learn how to create a story and final draft for presentation to Weekly Shonen Jump magazine.
The concept of Bakuman, with its manga meta elements is fairy interesting. It gives a lot of details, facts and even figures about how many manga creators are really successful, what goes into creating a manga, and even the process of going from first to final draft for submission. It almost feels like the creators are giving a lecture on how to create a manga through Moritaka and Akito. These parts of the story are well done and very interesting. I really enjoyed learning about the beginning process of creating a manga. I also liked the touch of romance that was added to the story, with Moritaka and Miho's relationship mirroring that of Moritaka's uncle and his first love from middle school. It was a cute touch, and creates a romantic element without getting all lovey-dovey. It can draw in girls with out driving away the boys.
I only had one problem with this title, and unfortunately it's a big one. In the second chapter, Akito, who claims to be smart, explains to Moritaka what he thinks is the difference between "smart" and "dumb" people, especially women. Miho is smart because she doesn't act too smart with her nose in a book, and is graceful "like a woman should be." This whole chapter really turned me off from the series. It felt like the author was espousing his views on women in a monologue rather than it be Akito talking, came really close to offending me, a difficult thing to do in general. I don't mind if a mangaka decides to lecture his audience through his characters about somethings, but don't try to tell me "what a woman should be like". If the romantic elements were supposed to lure female readers in, this chapter could easily stop them from even getting to them.
Takeshi Obata's art is spot on. I like how he gets in a lot of the tropes of shonen manga such as speed lines for emphasis without there being any real action. Another cool thing was seeing how pages went from storyboard to finished piece in between chapters. It really helped to illustrate what Moritaka was trying to explain to Akito about storyboards and drafts.
Overall, I did enjoy Bakuman. All the talk about creating a manga was interesting. I really liked the analogy of aspiring mangaka to gamblers. Working to become popular is a big gamble. There is no guarantee and a lot of luck as well as work is needed to make it. I even liked all the exposition Moritaka kept spouting off about being a mangaka and creating a manga that didn't seem natural for a middle school boy to say. But the second chapter keeps me from recommending this title. If you can get past it, then there is a good story forming. If it could be less misogynist and little more meta, then I would like a lot more.