Peace Pet Rental's Lag is a robotic dog. He can be pretty slow at times and can't perform tasks aside from those written in his program, but despite all this, he's everyone's favorite dog. Soon, however, he is tackling people's problems in ways not included in his program, and it seems almost miraculous… Something mysterious has awakened within his heart even though he's supposed to be a machine with no emotions. What is Lag's true nature? For those lost in despair and sorrow and those with wounded hearts comes this healing tale of love, kindness, and sacrifice.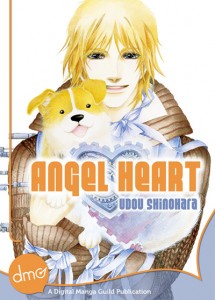 By Udou Shinohara
Publisher: Digital Manga Guild
Localized: Cynical Pink
Age Rating: Teen
Genre: Fantasy/Shojo/Slice of Life
Price: $6.95 eManga/$7.95 Kindle/Nook/Wowio
Rating:





While I am a big cat lover (crazy cat lady in training), I'm really a sucker for all animals, including dogs. So it should come as no surprise that when given the chance, I would read a manga featuring a dog, even if it is a robot dog. While the basic premise is far from original, Shinohara still creates an entertaining story with some quirky characters, an interesting world for them to live in, and a charming pooch to bring them all together.
Angel Heart takes place in an unspecified future, where phone calls are made with holographs, and robots can be made and programmed to act like animals. The Peace Pet Rentals creates dogs, and Shiki is in charge of gathering data and programming Lag, a medium-sized dog that looks like a Sheltie. He does this by taking the dog to a hospital (whose director is also the Chief's sister) and letting Lag interact with the patients, which has the added benefit of helping the patients. Over the course of the volume, Shiki gets to know many of the patients and watches Lag as he seems to grow beyond his programming, and like Pinocchio become thought of as a "real" dog.
I really enjoyed this title. Shiki is the reluctant programmer, who isn't very good with people, but through working with Lag, starts to learn how to better interact with them. His big rival is Rena, the youngest sister of the Chief Rin and Director Kira. She also has a robot dog that she brings, a small Pomeranian named Nikita, whose programming is simpler, and therefore is more energetic, but not as authentic as Lag. She is always calling Lag dumb, because of his slow reactions, and comparing Shiki to his creation. The Rin, Shiki's boss, is very stoic, but believes in his work, while Kira is more friendly, always smiling and encouraging Shiki, even if she is a little blunt about Lag's lagging.
And then's the star of the book, Lag. He is often shown with a blank stare, one I often associate with dogs anyway. When ever he does a dog action, like wag his tail, or lick someone's face, the programming why he's doing it is explained off to the side. This might seem annoying after a while, but I think it's actually cute. It makes the times Lag isn't following his programming stand out more. Throughout the story, it's Lag's unexplained actions that show how he's changing and growing into something more than his programming. Doing a handstand and wagging his tail for a girl scared of her upcoming operation, or going to comfort a former soccer player depressed after an accident that affected his legs, show how he is becoming more empathetic toward people. I really liked it when his "brain" was put into a larger, scarier-looking dog, Lag's personality still shone through. It was so cute seeing his stubby tail wag!
Angel Heart is a fun, light one-shot, though I wouldn't object to reading more about Shiki and Lag,  or another robot animal in this universe. Shinohara has created a cast of characters I enjoyed with stories that warm the heart. The localizer, Cynical Pink, did a really good job with this title as well. The writing was fluid and read very naturally. It's great that DMP/DMG has made this title available on several different platforms, though it's obvious by the price which one they want you to buy from. Definitely check out Angel Heart if you enjoy titles about dogs or just want a light, quick read. It's worth it.
Digital review copy provided by publisher.