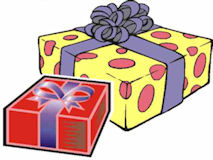 It's hard to believe, but this week marks Manga Xanadu's second anniversary.  I hope everyone has enjoyed reading my posts from the last year.  I set myself a schedule of 3 times a week, Monday, Wednesday & Friday, and with the addition of the This Week In Manga, one on the weekends, and have actually kept with it!  I'm rather proud of that.  It can be hard to be consistent, especially with RL and other commitments.  But, I've done my best and I hope you've been able to take away something from all my random ranting.
Over the past year, I think I've fallen behind on reviews for this site, concentrating on more commentary.  E-books and related technology have gotten a lot of coverage and remain among my most popular hits from search engines.  I will continue to cover this ever-evolving topic.  There is a definite future in e-books, one we shouldn't ignore.  Searches for All Ages books have also remained high on the list.  Hopefully more teachers, librarians and parents are looking at manga as another avenue to get kids reading.  Manga is still misunderstood, and people still need to be educated about it.  Libraries have been under fire, especially in the last few months.  They need our support, and I am more than happy to give them any and all I can.
There have been some changes to the site, though no major overhauls.  I've started to add more personal things to the site, with my personal twitter feed and my other hobby, cross-stitch.  I may be adding some non-manga reviews int he future as my reading of audio books expands, as does my desire to share the good ones.
I've been keeping up with my other projects, Manga Village and Good Comics for Kids, surprisingly.  But it helps to work with a great group of people, which I do at both.  Having gotten into a good groove, I hope to continue with it, and that you'll continue with me.