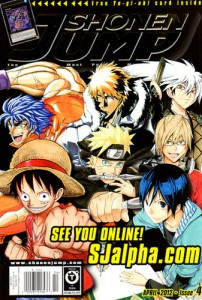 There is no Manga Wrap Up this week, as I didn't read any manga. I'm still working on my prose book, so maybe next week. Instead I thought I would finally give my thoughts on the final print issue of Shonen Jump and the way Viz Media handled the move to digital from the perspective of a long time subscriber. The final issue is a 392 pages, and harkens back to the good old days.
The issue is mostly just like any other issue of Shonen Jump with the same monthly chapters of Bleach, Naruto, One Piece, Psyren and Yu-Gi-Oh! 5Ds, as well as the prerequisite Yu-Gi-Oh! trading card, this time from the new series, Zexel. What makes this issue so much bigger, is the inclusion of the three new titles that will be in Alpha; Toriko, Nura: Rise of the Yokai Clan and Bakuman. Psyren and Yu-Gi-Oh! 5Ds will not be moving to the magazine, but Viz did announce that they would be available on Vizmanga.com. The chapters for the new manga, as well as for those moving the Alpha are part of the "Warp into SJ Alpha". Basically, these are the chapters that precede the starting digital chapters in the first SJ Alpha issue and are accompanied by a short paragraph explaining that chapter.
Okay, I had mixed feelings about this particular move to digital. On the whole, I approve of most of Viz's digital strategy so far. If they would just bring out an Android app and stop pushing all the iCrap, it would be great. I know a lot of people have been calling for Viz to catch up the Japanese releases, which we've seen with Naruto and One Piece. SJ Alpha is another jump, taking the Shonen Jump titles to within 2 weeks of Japan. And here's where I have the problem. Shonen Jump was ahead of the volume releases in the US, but WAAAAYYYYY behind the Japanese. So, going from Shonen Jump to SJ Alpha means BIG jumps for loyal readers. Naruto and One Piece aren't so bad. They are only a 38 chapter jump. But when you get the other titles, it's not so pretty. Bleach is a 147 chapter jump; Bakuman is 83 chapters from the last digital volume; 129 chapters from Nura's last digital volume, and 92 chapters from Toriko's last digital volume. Some of these jumps in story are outrageous!
Yes, I've been through these jumps before, with Naruto twice and once with One Piece. But when Viz did these, they at least had the courtesy to include features in the magazine that gave the subscribers an idea of what was going on in the jump, so when the chapters resumed in the magazine, they wouldn't be totally lost. Not this time. Now, we are dealing with enormous jumps in story, between 7-13 volumes worth, and several story arcs worth and what do we get in the last issue? One paragraph? Really??! This is how subscribers, many of whom have been with the magazine since the beginning and who DON'T read scans (like me), are rewarded for our loyalty? Viz can't even be bothered to thow us a bone and just give us a list of volumes, what story are they fall in, and a brief synopsis of the arc? They managed it with 30 volumes of One Piece. The second Naruto wave had features for 2 or 3 issues giving the low down to subscribers about what was going on. Are readers of scans, who are still gonna complain about the lag (OMG! Two weeks?! I want it the same day!!), MORE important that the paying fans? It sure seems like it since the way this jump has been handled only rewards those who have been reading scans all this time, and punishes the legal readers.
And talk about missed opportunities! Viz did a special "Preview" issue before the first Alpha issue came out, and what did they put in that preview issue? The first chapter of each of the SJ titles! How completely useless is that? First, all of those chapters have been available on the Shonen Jump website, some for years! And reading the first chapters does ABSOLUTELY NOTHING for someone starting with SJ Alpha. All of the titles are so far ahead of what happened in their first chapters, that it's practically misleading to present them as representative of the titles now. Naruto and Bleach are nothing like how they started, and not in a good way. One Piece has changed greatly too, but it's been for the better. This preview issue could have been better used to prepare readers for the jump instead of just rehashing old material.
I'm really disappointed in the way Viz handled this jump. It feels like there was little to no planning for it. It was announced publicly in October, and by being generous, we can say the next two issues were probably already set, but that still gave Viz 4 more issues to tell subscribers about what was coming up and prepare them. The online issue could have been done at any time. This is a fail on so many levels. And I'm not the only person to feel this way. The comments section of the first issue was filled with people just as surprised as I was by the jump. I don't know if I'm going to keep my subscription beyond the 6 month committment I made after this. Apparently, I'm not a valued customer anymore. It would have taken so little make this right, and yet I've seen nothing from Viz to rectify it. The way it looks to me is that Viz threw their subscribers under the bus in favor of a phantom demographic. And in business, perception is everything.