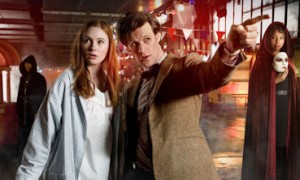 "The Beast Below", the second episode of the new Doctor Who series is one that takes the Doctor and Amy to the far future, where humanity has been forced to leave the Earth, and whole countries become space ships searching for a new home.  Of course, they land on Britain's ship, where the Doctor immediately pulls Amy into mystery and adventure in an underworld that is dark in more ways than one.
This episode is a good example of why I enjoy Steven Moffat's writing style so much.  He throws the characters into an unknown situation, usually with a dark or menacing feel to it, but is able to turn it around at the end, and it doesn't feel forced.  There is a dark secret on Starship UK, one that keeps the people in check with creepy Smiler enforcers, and in blissful ignorance.  I won't say anymore, as I try to keep these impressions as spoiler free as possible, but suffice to say, it's a national shame, all the more because it didn't have to be that way.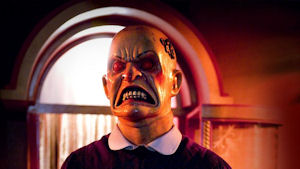 Amy really shines in this episode, as she first tries to save the Doctor from the truth, and then later saves him from making the biggest mistake of his life.  Even though she's good in the first episode, it's in this episode that she proves she'll be a great companion.  She's smart and sassy, and is willing to stand up to the Doctor when necessary to tell him he's wrong.  Or in this episode's case, shows him since he won't listen. She seems to have a knack for putting pieces of information together. Pieces the Doctor misses, mostly because they have to do with him, and only an outsider could put the pieces together. This episode is an affirmation as to why the Doctor needs a companion. And best of all, there's not any "lovey-dovey" stuff developing between them! That's the worse thing one can do to a companion.  They may feel something for the Doctor.  It's hard not to love him for all his quirks and arrogance, but please spare us the meaningful looks.
Overall this was a strong second shot for the season, boding well for Moffat's inaugural series.