It was back in 2004 I think, when I first saw the solicitations from a new manga company in Previews.  Seven Seas had 3-4 full size pages advertising it's titles.  I remember thinking how cool it was that an American company was making a go at creating original titles.  At the time, only Tokyopop had any OEL.  From those original titles, there weren't a lot that caught my attention.  Just one did actually.  Captain Nemo.  I had been a big fan of Captain Harlock in the eighties.  I loved his cape, the high collar, and the way his hair fell over one side of his face.  The cover of Captain Nemo mimiced this, so of course I had to get it.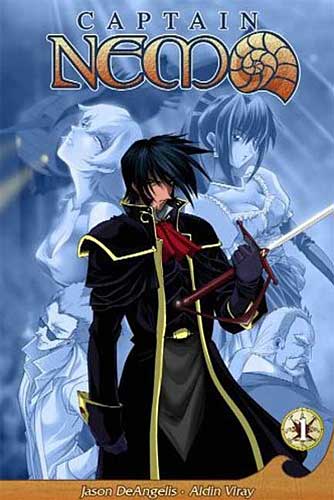 When the first volume finally came out in 2005, I of course ordered it, and have to say I actually enjoyed it.  It very much captured the feel of Harlock's brooding, and the lone captain trying to save the world that doesn't realize it's in danger.  I couldn't wait for the next volume.  Unfortunately, I had to do just that.  Seven Seas expanded, got into licensing manga and this meant the writer of Capntain Nemo, Jason DeAngelis, who is also president of the company, had less time to script.  So Captain Nemo was put on hiatus.  Permanently.  Well, I had hoped not, but 4 years later and things look as bleak as they did in 2007 when I last checked the status of the series.
Now, just to torture those of us who have been waiting in vain for the series to return, Seven Seas has put up the unfinished pages from Volume 2.  The first 24 pages were done by Aldin Viray from an outline and not a completed script.  That means there are no words, just the pictures.  And all they do is tantilize with an intriguing background story for Mrs. Wakely.  It's just too much to bear!  So, I'm sharing my pain with you.  Misery loves company after all.  Check out these pages and see what could have been an entertaining manga.