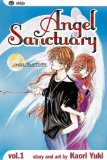 I was late in discovering Kaori Yuki's work.  It wasn't until Shojo Beat and Godchild, which was one of the debut titles, that I learned how great her work was.  But before Godchild and it's prequel The Cain Saga, another series by Kaori Yuki was released in the US.  That was Angel Sanctuary.  This 20 volume series was first released by Viz in 2004 and completed it's run in 2007.  The story is about Setsuna Mudo, the re-incarnation of the Organic Angel Alexiel.  Alexiel rebelled against heaven and as punishment was sentenced to be re-incarnated as a mortal and to live a life filled with pain and suffering.  Setsuna is discovered to be the latest re-incarnation and is pulled into the war between heaven and hell.
I've only read the first volume, and wasn't quite ready for her style of writing then.  But after reading her other titles that are available in English, I would like to try this series again.  I was bothered by the incest introduced in the first volume of Angel Sanctuary, but now realize that is a common theme in her titles.  My only problem now is, the series is 20 volumes long!  20 volumes is a lot to track down, and take up a lot of space.  This is what makes Angel Sanctuary the perfect candidate for the VizBIG format.  It's complete and it's been so for a while, like several of the other titles we've seen come out.  It's length makes it difficult to find in the individual volume format and will take up a lot of space.  9 volumes are a lot easier to handle and collect than 20.  And with several other of her titles out, it's the perfect time to reintroduce her most influential work to a new audience, as well as the growing interest in titles for older readers.  While it's rated Older Teen, it's rating could go up, as other of her titles have.
Angel Sanctuary has all the making of a great addition to the VizBIG line.  Hopefully Viz realizes this and will re-release this series soon.