Hime Kino's dream is to one day do voice acting like her hero Sakura Aoyama from the Lovely♥Blazer anime, and getting accepted to the prestigious Holly Academy's voice actor department is the first step in the right direction! But Hime's gruff voice has earned her the scorn of teachers and students alike. Hime will not let that stand unchallenged. She'll show everyone that she is too a voice acting princess, whether they like it or not!!
To make matters worse, Sakura's grouchy son, Senri, is in Hime's class, and he seems determined to stomp on her dreams. He even has the nerve to call Lovely♥Blazer stupid! But Hime won't be deterred by naysayers, her new nickname ("Gorilla Princess"), or even getting demoted to the Stragglers group. She's ready to shine, and nothing is going to stand in her way!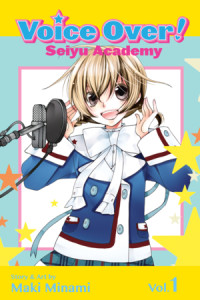 By Maki Minami
Publisher: Viz Media
Age Rating: Teen
Genre: Romance
Price: $9.99
Rating:





Voice acting has always interested me, and after ready Koetama on Jmanga, I became interested in reading manga about it. So when Viz announced this series, I was happy to finally have a series I could own about it. The only downside was that I hadn't enjoyed Minami's previous series SA, so I didn't know which side would win out. Fortunately, I ended up liking this series much more than SA. The female protagonist didn't come off dumber than bricks, which helped a lot.
The protagonist of the series, Hime, is anything but a princess, despite how desperately she want to sound like one. She isn't cute and girlish like her younger sister, who is constantly reminding her and the reader of that fact. Her voice is rough and gravelly. Her attempts to sound feminine end in people imagining old women or effeminate men. She isn't a princess at all. But she's not willing to give up. When she finally does find her niche, it isn't what she thinks is should be and doesn't accept it. It's not that she can't accept it, she won't because it goes against her dreams. I liked that about her. I don't think she's ever going to reach her dream of having a princessy voice, but that her journey is the accept and appreciate what she does have.
Hime's rival and potential love interest is Senri Kudo, the son of Hime's favorite voice actress who is already landing parts and becoming successful while still in high school. He comes off cold and uncaring, until he is shown to have a soft spot of small animals, but mostly cats. That put him in a new light for me. Anyone who loves and rescues cats can't be a bad person. Senri won't acknowledge Hime at first, until he hears her potential. In some ways she also reminds him of a stray cat, causing his soft spot to kick in. Right now, I like them more as rivals than a couple, but that could change.
Hime is surrounded by quite a cast of characters. She becomes part of the "Straggler" group when she can't keep up with the lessons and is joined by the soft-spoken Tsukino, who becomes her friend. Sho, who acts more like an underboss than actor and Mitchy, who is full of himself, but gets stage fright. I loved Sho with his short temper and ready to lend a fist when one of his fellow "Stragglers" is threatened. Two more characters that become part of Hime's circle are Mizuki and Shuma, the boy idol group Aqua. Hime borrows Mizuki's closes to help Tsukino out of difficult situation and gains the ire of Shuma. His attempt at revenge on Hime is devious, but she is able to turn the tables on him, as well as feeling the ire of MIzuki. It was a great scene at the end.
This first volume of Voice Over! Seiyu Academy is a good foundation for the series. It sets up the characters well, as well as Hime's problems and potential without beating the reader over the head about it. I thought the scout was a little harsh with Hime by calling her unsuitable when it was obvious she wasn't, but she can't start recording yet. I did like that Hime not only didn't become depressed over her "failure", but that she accepted the extra work she was given for if. She wouldn't accept help from Tsukino and took responsibility for it herself. It's a good example for anyone to follow.
I'm giving away a copy of Voice Over! Seiyu Academy volume 1 to one random reader. Leave a comment on this post about whether you prefer subs or dubs in anime to be entered to win. US residents only please.