Zooming ahead to a story arc that presents New World wines for a New World audience, this special episode of the international best-seller features scenes set in Napa Valley and labels from outside the traditional European production centers. Delectable on its own too, the Apostle revealed is the lucky Seventh.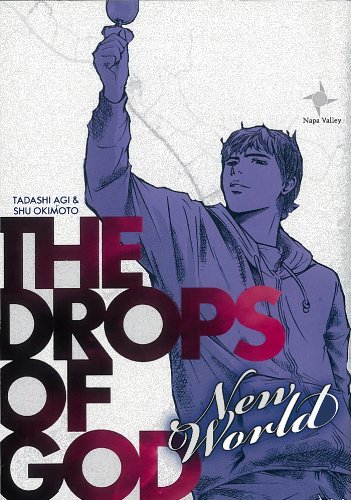 Story by Tadashi Agi; Art by Shu Okimoto
Publisher: Vertical, Inc.
Age Rating: Older Teen
Genre: Food/Drama
ISBN: 9781935654520
Price: $14.95
Rating:





The Drops of God takes a huge leap in time, as the last US volume covered Japanese volumes 7-8, this one covers volumes 22-23, and reveals the 7th Apostle. The last Apostle revealed was the second in US volume 3. This is a big risk, as so much of the story is skipped. But New World is dedicated solely to finding the identity of the Seventh Apostle, so many of the side stories that I enjoyed so much in volume 3 are not present in this volume. At  first, I thought this to be a liability for the volume, but by the time I reached the end, I realized again how good this title really was, and lamented that we will probably not see any more.
This special volume of Drops of God moves Issei and Shizuku out of Europe and into the New World. Of course, New World in wine circles basically means anywhere outside of the traditional European wine-making countries. This mean North and South America and Asia. That's a lot of area to cover with not much time. Issei had straight to the United States, to Napa Valley, with Shizuku, after some consideration (which didn't include Napa wines) heads for Australia.
While in their respective countries, both Issei and Shizuku have run-ins with the locals. Issei's reputation precedes him as he is blackmailed into helping some crooked wine sellers at a blind auction. Thanks to his assistant Loulan's quick thinking, his reputation escapes unscathed. Shizuku has a run-in with the environmentalist father of Nadia Simon an employee of Taiyo Beers' Australian brand. Shizuku's sharp nose helps Jack Simon save his ecovillage Emerald Forest. This meeting turns out to fateful to Shizuku, as Jack met his father when he was in Australia 15 years previously. It's this meeting that makes Shizuku sure he made the right choice. Issei has a fateful meeting as well, which makes him just as sure.  The outcome leaves Shizuku with a lot to think about.
At first, I wasn't thrilled with this volume, mostly because I don't like Issei. At the beginning of the series he was very haughty and looked down on Shizuku as a potential rival. His whole attitude made you want to cheer on Shizuku all that much more. At the beginning of this volume it seemed that not much had changed. He was still the stoic professional. But as the volume went on, there did seem to be a subtle change in his character. He has an assistant, a protegé of sorts that goes with him to Napa. Issei seems more thoughtful now, and by the end seemed a little more humble from what he learned of the people who created Napa Valley. It's a growth in character that he desperately needed. Maki hasn't learned anything yet, so it was gratifying to see her unrewarded by Issei for her taunts.
For Shizuku, the search for the Seventh Apostle was more than just a search for wine or gaining an inheritance. It was a journey to reconnect with his father by walking in the same places he did, and visiting the vineyard he spent a lot of time watching. He even imagines he sees his father for an instant in the fields when he visits. Shizuku spent so much time resenting his father for his passion, but by the end of this volume realizes he feels the same about wine. His father's passion is becoming his own.
While Drops of God is fun for the wildly fantastic descriptions given for the wines, this is really a story about sons and their father, gaining insights into not just their father, but also themselves. It really feels that the competition to find the Apostles is just a cover for Issei and Shizuku's father to continue teaching them, and helping them grow both as wine enthusiasts and as people. No matter who wins in the end, both Shizuku and Issei will have gained much more than any material wealth or recognition could give them. And this is what I am going to really miss being able to read. Drops of God hasn't been the seller that Vertical hoped it would be, so this will most likely be the last volume we see printed in English, which really is a shame. A story with this much growth and depth of character needs to be read by more people. While I still find the wine terms intimidating, the human drama trumps any discomfort I might feel. Drops of God is a series that deserves more recognition than it's gotten, and there will only be regret when it is no longer released.