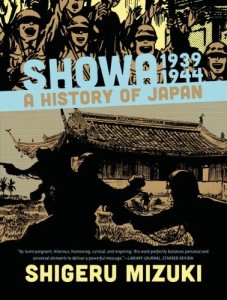 On Friday, July 10, 2015, the Wil Eisner Comic Industry Awards were announced during San Diego Comic Con. Five titles and six volumes were announced in the Best US Edition of International Material – Asia, essentially the manga category, but only one title could win. The award went to Drawn and Quarterly's release of Showa 1939-1944 A History of Japan and Showa 1945-1953: A History of Japan by Shigeru Mizuki.
The title faced some tough competition as it went up against Viz Media's All You Need is Kill, One-Punch Man, and Master Keaton, Vertical's In Clothes Called Fat, and Yen Press' Wolf Children: Ame and Yuki. The volumes of Showa that were nominated and won covered Japan's history from World War II to the aftermath and Occupation. The series was nominated last year for both an Eisner and a Harvey, for the first volume, 1926-1939.
I haven't had a chance to read any of these volumes yet. My love of history has them on my want list, but my wallet has told me to wait. I must admit I was hoping Master Keaton would win. I do love that series so much, and the first volume was a great showcase for who Keaton is and what he does. But I certainly can't fault the awards committee for picking not just the title, but both volumes. It portrays a dramatic time in Japan's history and shows that history doesn't have to be boring.