The Ranch wasn't fun, hun? But maybe festivals will be less funner?! (Yotsuba's playing opposites, ha-ha!) Yotsuba got uninvited to Fuuka's School for a culr…a clart…a cultural festival! And she didn't promise Yotsuba there wouldn't be CAKE! Yotsuba doesn't want a cake as biiiiiig as Jumbo, nope!! You won't either, now would you?!
Yotsuba&! Volume 8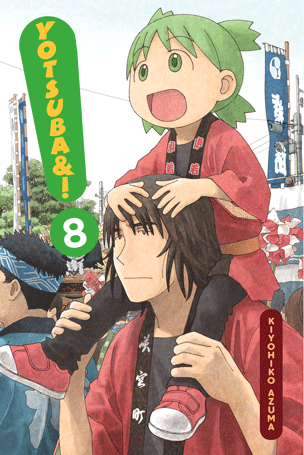 By Kiyohiko Azuma
Publisher: Yen Press
Age Ratting: All Ages
Genre: Slice of Life
Price: $10.99
Rating:






Buy This Book
Yotsuba&! is another title that gets a lot of praise from manga bloggers. It follows the everyday adventures of adopted 5-year old girl Yotsuba. In this volume we see Yotsuba go to a school cultural festive, help pull a shrine for the town's festival, get blown away in a typhoon, see a man's bare backside, and pick up acorns.
The appeal of Yotsuba&! is in its main character. Yotsuba is cute. She acts just like a real 5-year old. Many of the things she said and did reminded me of my youngest daughter. I could not only see a lot of her in Yotsuba, but I could see her doing the same things! This volume had some good laughs. Some of them, such as Yotsuba seeing a man's bare backside at the festival are funny because they are so true. A kid her age would act exactly like she does. Other moments are funny because you could see them happening even if they might not be possible, such as Yotsuba being blown away as she tries to walk from the neighbor's house back home during a typhoon. Yotsuba has a good supporting cast of friends and neighbors, whose job is to react to Yotsuba being cute, one they seem to take to heart. The chapter at the cultural festival has Fuuka spending most of it trying to meet Yotsuba's overblown expectations of cake.
Overall, I liked Yotsuba&! but I was not blown away by it. It had its moments that made me smile, but this title feels more like a "borrow" than a "keeper" . There is nothing objectionable in its content, and kids will no doubt find Yotsuba's antics funny and may even relate to her on some level. Adults though will probably find more to enjoy in this series. It's slow paced, with no actual plot. It's just moments sliced out from the life of Yotsuba and people around her, so you could pick up any number volume and still enjoy reading it. I found I liked it more for the way it reminded me of my daughter at that age than anything else. Parents can reminisce about what their kids were like while adults without kids of their own can live vicariously through Yotsuba's adventures. Yotsuba&! was written for an older audience, and in the end I think that's who will take more from it.
Rating: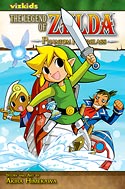 The Legend of Zelda: Phantom Hourglass
By Akira Himekawa
Publisher: Viz Media – vizkids
Age Rating: All Ages
Genre: Video Game
Price: $7.99
Buy This Book
Link's friend Tetra is taken prisoner by a ghost ship, and Link falls overboard when he tries to save her. When he wakes up, he finds himself embarked on another fantastic quest! The discovery of the Phantom Hourglass sets Link on a journey to rescue Tetra, find the Sand of Hours and break the curse of the Temple of the Ocean King. Come aboard with Link for an amazing adventure on the high seas!
This title, like all the titles in this series are based on the video games of the same name, and features the more cartoon-ish version of Link that had gamers in an uproar about when the designs were first released. The Legend of Zelda games are action/adventure games that first started on the Nintendo Entertainment System (NES). The Player controls Link as he goes on quests and fights monsters in order to save the Princess Zelda. The story of the volumes adapts the plot of the game Phantom Hourglass that was releases for the Nintendo DS.
Phantom Hourglass was a lot of fun to read. Being based on a video game, it has a simple premise. Link must fight the monsters, free the Spirits trapped in them and collect the Sand of Hours. Himekawa does a good job of adapting this into a fun adventure on the high seas while actually incorporating some of the gameplay into the story, such as when Link is in the Temple of the Ocean King, and his life is being drained away. Just like the player would have to, Link figures out that he has to stay on the purple spaces on the floor to get through. I thought these elements really added to the story and paid a nice homage to the original source.
The characters really give the story life. Link is your typical hero character, charging off into danger to fight any and all who get in his way. He's portrayed as earnest and always willing to help anyone in trouble. Tetra is the damsel in distress, who like Link, dives headlong into danger, which is what makes her need saving. Linebeck is the anti-hero who helps out Link in order to get the treasure that's supposed to be on the Ghost Ship, but by the end is changed into a more heroic character because of Link's influence.
The Legend of Zelda: Phantom Hourglass is written to appeal to kids 12 and under. The art is simplistic, but cute, giving it appeal to younger readers. Link is seen fighting monsters, which are turned into sand when defeated, and there is a scene with zombies, but there's nothing really objectionable or scary in the volume. This is a great title for kids, and for any fan of the Legend of Zelda video games, young or old.
Rating: