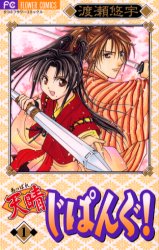 One of the fun things about writing this blog is the little surprises that pop up unexpectedly.  I stumbled onto this title while researching Yuu Watase for my Noted Women of Manga post.  Appare Jipangu! is a short series, only 3 volumes long.  It was published straight to tankoban form instead of being serialized in a magazine.  It ran from 1998-2003, at about the same time as Watase's more popular series Ayashi no Ceres (Ceres: Celestial Legend).
Yusura was abandoned as a baby and was found under a cherry tree with the Kogoumaru, a staff that turns blue when it is around people who are sad.  Fifteen years later, Yusura is now known as the Hikeshiya, or "extinguisher of sorrow".  She wields the Kogoumaru to take away people's sorrow and redirect it at the people who caused it.
What make this series sound so appealing to me is that it's a lighthearted adventure with the romance secondary to the story the story.  The characters might seem typical for a manga.  Yusura is hot-headed and tomboyish, and Samon, a guy she rescues from assassins, is practically blind with out his glasses, often mistaking objects for Yusura.  But the whole set up sounds like a lot of fun, and with the more shonen style romance, there's no melodrama over their relationship.
With Arata, Watase's first official shonen coming out in the US, this shorter, similar in style series would make a great companion to it, as well as contrast with all of her shojo already available.  So how about it Viz?