Darren and Mr. Crepsley embark on a dangerous trek to the very heart of the vampire world. Will a meeting with the Vampire Princes restore Darren's human side or turn him further toward the darkness? Only one thing is certain — Darren's initiation into the vampire clan is deadlier than he ever could have imagined!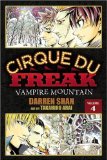 Written by Darren Shan; Illustrated by Takahiro Arai
Publisher: Yen Press
Age Rating: Teen
Genre: Action/Horror
Price: $10.99
Cirque Du Freak is based on a series of young adult novels of the same title. It's a vampire story, but with a difference, it's geared more for boys than girls. So there's more action and adventure, and next to no romance and angst. This volume gets into the background of the Vampire race; their history, politics, and the Vampaneze problem.
This volume doesn't waste much time in getting to the action. It's been six years since the last volume, and Darren and Mr. Crepsley, his mentor, are on a perilous journey to Vampire Mountain, the home of the Vampires, where the leaders, the Vampire Princes meet once every 12 years. The trek is difficult, and must be done with no tools, simple clothes and not even any shoes! It's meant as a trial for vampires, as a way to weed out the weak. Besides the perils of the journey, Darren must fight a rampaging bear poisoned with Vampaneze blood, and the possibility of facing an actual Vampaneze. The action continues inside Vampire Mountain. Darren accepts a challenge with Arra Sails, a skilled warrior who won't shake hands with anyone she doesn't respect. Darren is determined to earn her respect.
Between all the action, there is plenty of story. On the way to Vampire Mountain, Darren learns about the Vampaneze Prince and his prophesied return, as well as the truth about Mr. Tiny's Little People. Inside the mountain, there's even more to learn. Darren meets Mr. Crepsley's mentor and hears stories of his past, and meets his friends, including Kurda Smahlt.  As he's shown around the mountain, he learns about Vampire history and tradition. The Hall of Cremation, Hall of Death, Hall of Sport and Hall of Princes each add pieces to the background of the Vampires and their battle with the Vampaneze, creating a truly intriguing world.
Surprisingly, I really enjoyed this volume. I didn't think another series about vampires would really appeal to me, but the well-developed characters and story really drew me in. Darren is a great lead, with just the right balance of recklessness and intelligence to be a likable protagonist. Mr. Crepsley is the cautious, worldly master with more of a fatherly than buddy feel. The art has a more toon-ish feel than realistic, and very little of the manga conventions, but it works well with the story.
Although the audience for this title was teen-to-young adult boys, action-oriented girls and adults can find a lot to enjoy in here too. Cirque Du Freak is a good alternative for anyone who wants to read a vampire story with all the action and intrigue one would expect and none of the sparkle.