The cast gears up for the mother of all Golden Week vacations. Hayate sunning in the Mediterranean? Our hero's story truly is a classic tale of rags to… well, substantially less shoddy rags. But what about the students who don't work as manservants to the super-wealthy? Well, they'll just have to win vacation tickets in a game show or hit the jackpot in Vega. That could happen, right?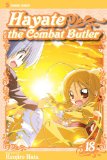 By Kenjiro Hata
Publisher: Viz Media
Age Rating: Teen+
Genre: Romantic Comedy/Harem
Price: $9.99
I've heard a lot about Hayate the Combat Butler, and seen how beloved it was by other manga bloggers, but I never felt the need to read it. The premise didn't interest me, and I don't care for harem-comedies, but I decided to give it a shot. It actually wasn't too bad.
The volume starts off at the end of a flashback from the previous volume. It's very serious and rather intense. I was pulled in immediately by it and was hoping for more once the story returned to the present. Sadly that didn't happen, as instead the remaining chapters were about where everyone was going on vacation for Golden Week, and specifically, all the girls that want to go where Hayate is going.
Either the humor is very subtle, or it's just not for me. For the most part, I didn't find a lot I thought was funny. I really don't care for the rich vs. poor humor that seems to be the basis of this series. It did have some moments, mostly when the series is being self-referential , but seeing Hayate dressed in girls clothes doesn't make me laugh. The use of the girls from Lucky Star at the local shine, did. It's fairly tame as a harem manga, which is a good thing. Hayate does have several girls who like them, but at least they aren't throwing themselves at him, hanging off him, or thrusting their chests at him. While the whole Golden Week plot didn't interest me, I would be interested in seeing the next volume to see where the plot with Athena will go.
Hayate the Combat Butler has its moments, but just not enough to pull me in as a regular reader. The strength of the flashback shows how good the series can be when it gets serious, and the low-key harem elements does make it more tolerable than most other harem titles, but comedy just doesn't do it for me. And without that, a romantic comedy like this just falls flat.