Some company needs to step up to plate and rescue the City Hunter manga from license hell.
This series, written and drawn by Hojo Tsukasa, ran in Shonen Jump from 1985-1992, and has a total of 35 volumes. It's about Ryo Saeba, a sweeper, or gun for hire, working in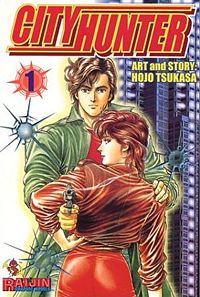 Tokyo. He is known as The City Hunter, the best shot in the Underground World, where he worked as an assassin for my years before becoming sweeper. Now, he works with a partner, Kaori Makimura, who is the younger sister of his former partner, Hideyuki Makimura. Hideyuki died, and asked Ryo to take care of Kaori. Together, they take on work to help people as body guards or private detectives. And even though he is wanted by the police, he sometimes helps out Saeko Nogami, a pretty detective wtih Tokyo Metro Police. There is alot of action in this manga, and lots of sharp shooting from Ryo, making nearly impossible shots to save the day. Ryo is a well muscled, good looking man, and the women are all shapely beauties. Sound like a typical shonen series? Well, it isn't! This series is freaking hysterical!!
What makes City Hunter so funny? Ryo, for all his cool looks and serious demeanor has one weakness: beautiful women. When he sees a beautiful woman, he looses all control and his homones completely take over. The manga is more graphic about this, with Ryo getting a very visible erection, but in the anime, (which is what I've seen), but just acts goofy. But it's not how Ryo acts that's so funny. It what the women around him do to him. Most notable is Kaori, who is able to pull out a large mallet (min. 100 lbs.) to hit Ryo with. Not that other women don't get him in their own way, usually with them just moving out of Ryo's way so he hits a wall or something hard. If anyone said women shouldn't watch this because of the womenizing, doesn't realize the pure pleasure we can get from a man getting hit with a huge mallet engraved with the words "National Shame".
This manga was brought to the US by Gutsoon! Entertainment, a company now bankrupt. Only 5 of the 35 volumes of City Hunter were ever released, and they are incredibly hard to find now. No word has come out about what became of the licenses they held, but Viz was able to acquire another series once held by Gutsoon!, Slam Dunk, and will start releasing it next year. Why should City Hunter remain in License Hell, never to see the light of day? This is a series that could so easily find a loyal core audience. If it is marketed right, it could even pick up some women fans! With an excellent balance of drama and comedy, both men and women can enjoy it.
Why do I call on Viz to do this? They have the connections to make this happen. Shueisha, the original publisher of the manga is a partner in Viz. They also have the money to subsidize a slower selling series. The Viz Signature line would be a perfect place for it, balancing against the mindless sex and violence of Golgo 13, and disturbing drama and horror of Monster and Drifting Classroom.
Viz, do the right thing! Rescue City Hunter from the darkness! Let him see the light of day again!!