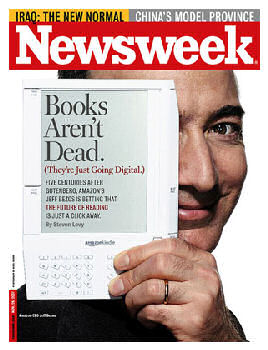 The Kindle has been getting a lot of press lately. It was feature on the cover of Newsweek, it's back ordered because of the demand, but is it really all that the hype is making it out to be? And what's this going to mean to manga and other j-media?
The Kindle is Amazon's entry into ebooks. Since Amazon sells books, this seems to make sense. The Kindle uses a new technology know as "electronic paper". It uses black ink, in a way similar to an etch-a-sketch, to electronically charge the ink so that it clings to the screen. This gives the appearance and readability of paper without the flicker or glare of a computer screen. It has wireless connectivity that makes getting books and other files fast and easy. No need to search for a WiFi hotspot. Anywhere Sprint service is available, so is your Kindle. You can buy and download books from the Amazon Kindle Store with the keypad at the bottom of the reader. It comes with an account and email address for your purchases and correspondence. You can also download magazines and daily newspapers, so no more paper cluttering your house or needing recycling. It can receive blog feeds, and you can email yourself pdfs, word documents and pictures. Even in this first generation, the Kindle looks to be revolutionary. So what's to stop it from taking the world by storm?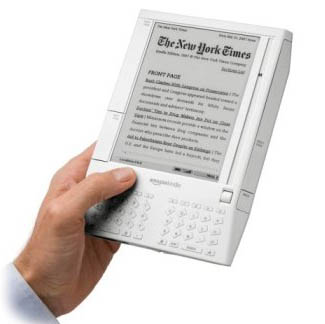 It's certainly not perfect. It's priced way too high. The reader itself is $399.00. There are no wireless charges, but each book costs $9.99, magazine and newspapers have subscription costs, and even blogs and email will hit your pocket book; $2.99 and .10/ea respectively. It has some design problems, and it needs to work on formatting for pdfs, but these are minor issues.
The bigger problem is one for ALL E-reader devices; convincing people to use an E-reader. E-readers have been around for quite a while now, since about 2001. And in all that time, the sales haven't yet hit 100,000 units. This isn't a good track record for E-readers. Lots of the bells and whistles aren't going to push sales if the basic reading experience doesn't compare to reading a print book. People expect electronic devices to be the same or better than the regular experience. If E-readers and ebooks are to succeed, they have to do this. They have to make people believe that holding an electronic device is just as good as holding a book, and that the electronic experience is going to be better than feeling the paper in your hand and turning the pages yourself.
Despite these problems, I think the reason the Kindle has gotten so much hype is that it is loaded with potential. The basic technology isn't new. It's the way that's it's be used that's really captured people's imagination. Download a free preview, and if you like it then download the book! The ipod was just another mp3 player until Apple introduced the itunes store, and revolutionized the way we get and listen to digital music. If Amazon can do the same for books, then the Kindle WILL be the ipod for ebooks.
So, what's all this got to do with manga? Nothing at the moment. Only a few manga publishers have been doing anything with digital manga. Netcomics has the most obvious model, following their Korean model of rent chapters for .25 a chapter. They have their own viewer (for copyright protection) . Tokyopop, the only other publisher that has really taken online viewing seriously, has their own viewer as well, and makes many of their original manga available.  Most of the other publishers only have previews of some of their series' available. No one lets you download the manga to keep. Tokyopop has dabbled with manga downloads with the Sony E-Reader, but since the E-Reader hasn't take off, neither has the downloads.
The best place for manga publishers to start is with light novels. We have been seeing more of these books being licensed and published. They are often serialized in anthology magazines along side manga, and they will have illustations to accompany the text. Viz has put out light novels for Ruroni Kenshin, Naturo and Full Metal Alchemist. Tokyopop has snatched up some novels that were the source of several popular manga and anime here including Full Metal Panic, Karin (Chibi Vampire), and Welcome to the NHK. Seven Seas Entertainment has licensed a few such as Ballad of a Shinigami, but they have yet to see the light of day. Since these are just text novels, there is no formatting necessary. And without the publishing costs, the prince should be able to drop as well. $5.99 would be much more palatable than the current $9.99 publishers charge. This would be the ideal place for manga publishers to start.
Even though for the initial launch, Amazon seems to have chosen to go after the businessman on the go, just imagine what the implications would be for manga if the Kindle were to become commonplace. Being able to carry whole series' with you anywhere. Downloading previews of new titles and buying the book if you like it. Even being able to rent titles like the Netcomics model and still be able to read them anywhere and not worry about returning them or being tied to your computer! The possibilities for manga are as limitless as the Kindle. Let's hope that the E-book's time has finally come. Publishing's been due a revolution for some time now. Maybe the Kindle can be the one to raise the flag and lead the way.
Edit: Fixed browser references.