It's a small list this week, as I have a feeling most weeks will be. Younger readers are not a target audience for comic and manga publishers. No money=no market. Unless it's got a cartoon/TV show running on the air.
ARCHIE COMICS
Betty & Veronica #234, $2.25
Betty & Veronica Digest #182, $2.49
Jugheads Double Digest #138, $3.69
Sabrina Vol 2 #92, $2.25
CAPSTONE PRESS
Graphic Library GN Amelia Earhart, $7.95
Graphic Library GN Challenger Explosion, $7.95
Graphic Library GN First Moon Landing, $7.95
Graphic Library GN Jobs & Wozniak And Personal Computer, $7.95
DC COMICS
Cartoon Network Action Pack #23, $2.25
EUREKA PRODUCTIONS
Graphic Classics Vol 15 Fantasy Classics, $11.95
IDW PUBLISHING
Doctor Who Classics #4 (Joe Corroney and Dave Gibbons covers), $3.99
MARVEL COMICS
Marvel Adventures Spider-Man #37, $2.99
RECOMMENDATIONS:
Doctor Who Classics #4: These reprints of stories from Doctor Who Weekly(soon to be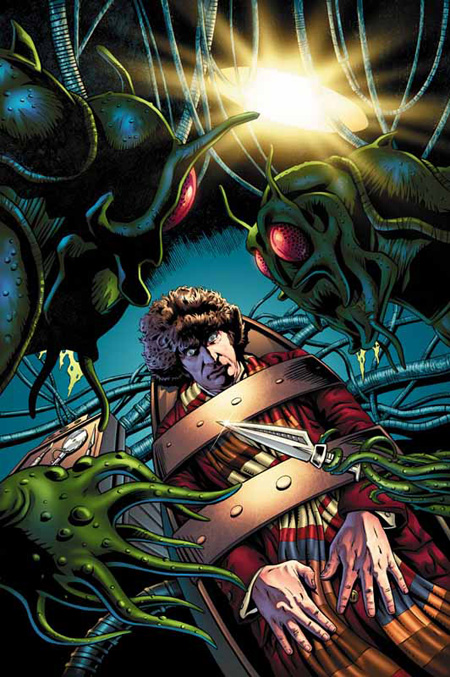 Monthly) magazine are perfect for the child who likes good action and sci-fi. These stories follow the adventures of the 4th Doctor, as played by Tom Baker. The stories were serialized, so every one ends on a cliff hanger. But with 6-7 chapters per issue, you don't have to be left hanging for longer than a turn of the page. Every chapter has a lot of action, and, as the stories were written for younger children are only marginally scary, as the TV series was/is. There is no blood, but skeletons do pop up a bit. I highly recommend these stories, which are enjoyable to both kids and adults, especially those of us that remember watching the 4th Doctor on PBS in the late 70's-early 80's.
Cartoon Network Action Pack #23: This series from DC features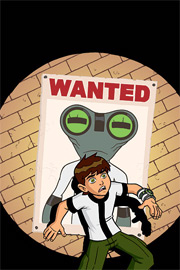 short adventures from most of the Cartoon Network original shows. Powerpuff Girls, Camp Lazlo, Fosters Home for Imaginary Friends, Johnny Bravo, My Gym Partner is a Monkey, and the Grim Adventures of Billy and Mandy, just to name a few, are all in this mini-anthology type comic. While I don't care for the content of the comic itself, I hate the CN Originals, I can't deny my kids like to watch them. So probably do all their friends, so having a comic that feeds that interest is a good way to foster an interest in comics. And I just like TV tie-ins in general.