When Soah's impoverished, desperate village decides to sacrifice her to the Water God Habaek to end a long drought, they believe that drowning one beautiful girl will save their entire community and bring much-needed rain. Not only is Soah surprised to be rescued by the Water God-instead of killed-she never imagined she'd be a welcomed guest in Habaek's magical kingdom, where an exciting new life awaits her! Most surprising, however, is the Water God himself…and how very different he is from the monster Soah imagined.
Bride of the Water God Volume 1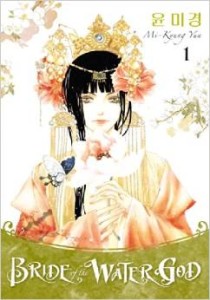 By Mi-Kyung Yun
Publisher: Dark Horse Comics
Genre: Fantasy/Romance
Rating:Teen
Price: $9.99
Rating:





It's a journey through Wonderland, Korean style, as we follow Soah's adventures in the land of the gods. Will she find happiness with her new husband, the Water God Habaek, or does a worse fate await her?
As serious as all that sounds, Bride of the Water God is a good mix of comedy and drama. Although the romance hasn't really started yet, you can see it in filtering through slowly. Habaek and Soah are essentially strangers that have been put together in this "arranged" marriage. There are plenty of missteps and misunderstandings, some humorous, others not. But, despite outward appearances, there is an undercurrent that Habaek does have feelings for Soah. The potential for a real romance is there, if Soah can break through the emotional wall Habaek seems to have around him.
The characters are well-developed, and we learn about them through their actions. There aren't any descriptions or inter monologue about anyone. What you see is what you get, and that really draws you into the story. You have to really look at the characters to pick up the subtle cues that are put in to define them. Habaek, which seems cold and brooding, also has a warm and tender side that only shows when he is watching Soah sleep. Despite being Gods, all the characters have their humanistic qualities that make them easy to relate to.
Mi-Kyung Yun's art is absolutely gorgeous! Her characters are beautiful with lots of delicate line work. Their clothing has the look and feel of ancient Korea, with lots of intricate designs. The care she puts into her work really shows, and just adds to the overall feel of the book.
The only thing I didn't like about this volume was the disjointed way the chapters were fit together. Splash pages were the only way to really tell you were moving from one chapter to another, and at one point, I had to go back a re-read a transition because I thought I'd missed a page or two. While only a minor distraction, it did leave me wondering.
Bride of the Water God is among Dark Horse's first foray into the world of shojo, and it does so with great success. The art, writing and characters all come together to make a wonderful story that any girl would love to read.