It's another interesting mix of books this week. I never expected Dark Horse to have any comics for younger audiences. The Harvey Comics Classics is rated for 10+, right on the border. And someone explain to me why we needed *another* Teen Titans book? Didn't the "babies" phenomenon go out with the 80's? And Gumby's back!
ARCHIE COMICS
Archie & Friends #117, $2.25
Archie Digest #242, $2.49
Sonic The Hedgehog #186, $2.25
DARK HORSE COMICS
Harvey Comics Classics TP Vol 03 Hot Stuff, $19.95
DC COMICS/JOHNNY DC
Legion Of Super Heroes In The 31st Century #12, $2.25
Tiny Titans #2, $2.25
IDW
Doctor Who #2, $3.99 ** Recommends **
MARVEL COMICS
Avengers Fairy Tales #1 (of 4), $2.99 ** Recommends **
Marvel Adventures Hulk #9, $2.99
Marvel Comics Presents #7, $3.99
SCHOLASTIC INC.
Goosebumps Horrorland SC Vol 01 Revenge Of Living Dummy, $5.99
WILDCARD INK
Gumby TP Vol 1 (resolicited), $12.95
RECOMMENDATIONS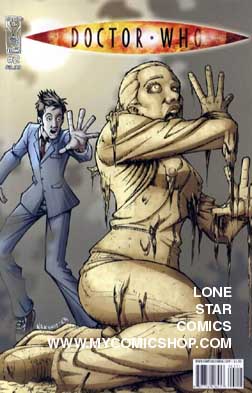 Doctor Who #2 : This is a new series based on the current Doctor played by David Tennent, with last series' companion Martha Jones. The stories are written by show's story editor Gary Russell and are definitely written for a younger audience. You can see a preview of the first issue here. The first issue is a self contained story withe last page leading into the next issue. If you or your child has enjoyed the 10th Doctor on the Sci-Fi/BBC America Channel, then definitely pick these books up.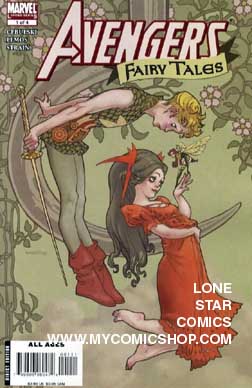 Avengers Fairy Tales #1: This is the third series of fairy tales that Marvel has done with their characters. The first was X-men, and then Spiderman, and now it's the Avengers turn. They use fairy tales and myths from all over the world, and the stories are usually appropriate to the characters used. I like the X-men series I got last year. The stories are enjoyable in themselves, but take on a greater meaning if you know the characters. This is another that both young and old will enjoy.