I thought I'd point out some things in the latest Previews catalog that might slip through the cracks, but are of interest to the mangasphere.  Previews after the cut.
Vertigo – DC
Madame Xanadu #1 – Written by Matt Wagner of Grendel fame, this new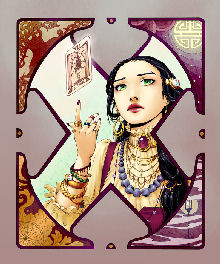 comic series is drawn by Amy Reeder Hadley, who is known in the mangasphere for the title Fool's Gold from Tokyopop. There is a two page preview, and I have to say I really like the artwork, much more than her work for Tokyopop. I'm definitely going to check this out. The subject matter interests me just as much as the art, and I enjoyed Matt Wagner's other series The Hero Discovered, so I'm not seeing any downsides here.
Harper Collins Publishing
Apparently Harper Collins has discovered that graphic novels of popular YA series' can make money. Volume 2 of Avalon High: Coronation is in this issue, as well as not 1 but 2 Warriors graphic novels. Graystripe's adventure concludes with Warriors Volume 3: Warrior's Return. There is also a new one shot; Warriors: The Rise of Scourge. It tells the backstory of Scourge, the leader of the Blood Clan from the first Warriors series. Expect to see these at the top of the USA Today list if my daughters obsession with them is any indication.
And since cats are so popular, they have a new series starting, Bad Kitty Volume 1. It's a new story based on the book by Michele Jaffe. Jasmine just wants to spend to time at the mall with Jack and her friends. Instead, she stumbles on mystery at the jewelry store and a lost purse that may be more trouble that she could ever suspect. I love sleuth stories like Nancy Drew, and this one sounds right up that alley.
Tokyopop
The Dark Goodbye Volume 2 – This dark series deserves it horror rating with Lovecraft's Cthulu mythos being the basis for the gritty detective story. I haven't had a chance to check out Volume 1 yet, but I still mean to.
Pick of the Litter Volume 4 – I still love this series! There aren't many series that are cute and funny without the moe factor. Bishonen boys are definitely much better! So is the story as it gets more into Riku's past.
Udon Entertainment Corp.
I never thought I'd see myself being interested in an Udon book, but this new series they have as perked my interest. Evyione: Ocean Fantasy Volume 1. It's like The Little Mermaid, but with the roles reversed. It's a merman that fallen in love with a beautiful girl.
Sci-Fi/Fantasy Novels
Moribito: Guardian of the Spirit – This is a novel from Japan,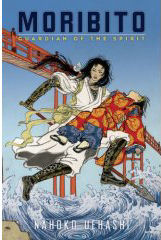 written by Nahoko Uehashi, and published by Arthur A. Levine Books as a Young Adult novel. It's about a warrior for hire, Balsa, who rescues a boy flung into a raging river. He is Prince Chagum, the second prince of the Emperor of Yogo. She tasked with helping the Prince with his quest to deliver the egg of the Water Spirit that he carries in his to the source at the sea. This story was animated by Production I.G. in 2007, and was just license-rescued by Media Blasters. The anime was fantastic, both art and storywise. The novel should be just as good if not better. Definitely check this out if you like a good fantasy/action story.