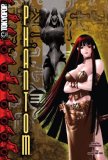 Phantom Volume 3

By Ki-Hoon Lee/Seung-Yup Cho
Publisher: Tokyopop
Genre: Action
Rating 13+
RRP: $9.99
Rating:






Reviewed by Brian Henderson
After K activates the untested Cerebus with the newly installed Aurora system, he takes on Kas Stein, the evil corporate warrior who has a mysterious past with Matilda the drill instructor in the skimpy outfit. We find that AIs like Cerebus aren't very useful for fighting against experienced TC pilots, except this time when K and his mech sync perfectly and take out Kas at the last second. Everyone gets picked up just before the base self-destructs; K and Matilda are injured but will recover, but Kas, dragged out of his mangled TC, has lost his arm and likely his sanity.
As K and Sara and the other members settle into their new secret identities and wait for another mission to come up, K learns how the world came to be the way it is and how the mega-corps took over in the wake of the meteor shower. Suddenly, a new potential menace rears it's head in the form of killer cyborgs and they're apparently hunting a beautiful woman…
There are elements that start to bother me in this volume, especially where it starts to look like a harem show. K has everyone after him, from Lily's mother to Matilda to Sara, the mech mechanic. We can't forget Yura, K's "friend" who is still recovering from her head injury, she'll certainly want a shot at K when she wakes up. It's not bad, at least not yet, and it's nothing they try to hide, they even have Sara wondering why K's gathering a harem, it's just not something that I really like in a story.
The other thing that, while very minor, is just an artistic complaint. More and more in this issue, at least that I've noticed, the artist is putting in a lot of sound effects. Every drop of blood is labeled "drip", every time someone makes a fist, it's labeled "clench". We as readers shouldn't need to be told that, it should be conveyed through the art.