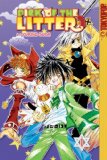 Pick of the Litter Volume 1 (Buy Now)

By Yuriko Suda
Published by: Tokyopop
Age Rating: Teen
Genre: Comedy
RRP:$9.99
Rating:





Riku joins his whacky long-lost family in the mythical land of Yamato and finds he's got a few new siblings! On cat, two rabbits… Sounds more like a zoo than a home! He may be new in town, but Riku's pledged to lead the family business of Hiyokoya to the top—and no sneaky competitors, smart-mouthed cats, or mysterious magic stones are about to stop him!
Well…not really. Riku only said he'd work part-time.
I got this title based on the cover and on the promise of catboys alone. I had no idea if I would like it or not. Well….I did! This is a sit-com that's actually funny!
This series is a family-business comedy with a magical twist. Riku, who has no memory of his parents or where he's from, learns that he's not an average Japanese middle school student, but actually from the magical world Yamato, where his family runs a general store. Yamato looks like a throwback to the Edo period, where magic is a fact of life. The rest of the volume are about Riku getting to know both his family and his old home. Riku's family is filled with interesting characters, such as the eldest brother that wants to dote on him since he's been away for so long, the second eldest who's a rabbit that gets attacked by anything carnivorous (especially crows), and the bossy cat that's also the head clerk for the store, just to name a few. Though, what happened to Riku in the past is never explained or even really touched on. Hopefully, we will see this developed in future volumes.
Although there's nothing really original about the situations in this sit-com, the characters are likable and easy to relate to. They really make the comedy work. The stolen delivery that must be found and, trying to help the klutzy brother work around the store are pretty run of the mill plots. But, they still come off as funny. A welcoming cat statue with a spirit in it that only Riku can hear, and who's tail comes off to become a very adorable kitten was different. I found it very amusing to read angry words coming from a smiling cat. They then become regulars, both to the store and the story, adding to the comedy.
The art is well done, and tends to be on the cute side. The one downside is that the panels are very busy. There is a lot of overlapping, that can occasionally make following the action confusing, but not overly so.
With a family dynamic that makes for some truly comedic situations, this title is definitely a lot of fun. Combine that with adorable kittens, cute (cat) boys, and a dash of mystery about Riku's past, and you have one entertaining read!