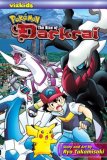 Pokémon: The Rise of Darkrai

By Ryo Takamisaki
Publisher: Viz Kids
Age Rating: A (All Ages)
Genre: Game/TV tie-in/Action
Price: $7.99
Rating:





What is the story about?
It's about Ash, Pikachu, and Darkrai.  Darkrai fights both Dialga and Palkia before he disappears into space.
What did you like about the story?
I liked the fight against Dialga and Palkia.  I also like the pokemon Dialga.
What did you dislike about the story?
I hate it when Baron turned into Lickilicky, because it is freaky.  I also hate the way they drew Infernape.
Would you recommend the story to kids your age?
Yes.