I'm almost caught up with reading my back issues of Shonen Jump.  I started reading October last night.  Both October issues of Shonen Jump and Shojo Beat had previews for new manga, and I thought I'd share my thoughts on them.
In Shonen Jump, the preview was for Nora: The Last Chronicle of Devildom.  I wasn't sure what to make of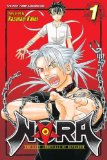 this title when it was first announced, and when I started reading it, the first thing that came to mind was that it seemed like a cross between Inuyasha and Death Note.  We have a demon who can take the shape of a dog (or hell hound) that needs to be controlled.  He is sent to the human realm and put in the hands of human high school student who is successful at everything and bored.  I was thinking the "demon animal under human control" was also a genre that was getting old.  Inuyasha, Her Majesty's Dog, and Mugen Spiral (from Tokyopop), had all done it before, so I really wondered if this series could do anything better.  By the end of the preview chapter, I was actually liking it!  It doesn't do anything new.  But for some reason, I found myself liking Nora and Kazuma, and their very antagonistic relationship.  I'm going to read the first volume of this title for sure.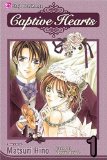 Shojo Beat previewed a new Matsuri Hino title, Captive Hearts.  I had no hope whatsoever for this title.  I
haven't liked any of the other titles by her that I've read/previewed, so I didn't think this one would be any different.  The whole premise of a boy being controlled by a girl because of a curse sent up all kinds of red flags, and I imagined the worst.  But, when I started reading it, it turned out to be the complete opposite of what I had thought.  What's more, I actually liked it!  Megumi was very funny as he started to feel the effects of the curse, and Suzuka was just cute.  The art is nice too.  There are a lot of light moments that seem to set his manga up for some fun.  I'd definitely consider buying this title.