"On the Eleventh Day of Christmas, my true love gave to me, Eleven Band Member Battle,"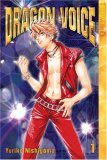 Rin Amami has a dream of becoming a singer like his mother, but it's an impossible dream.  He has the voice of a frog.  He has all but given up on his dream until a chance meeting with a new boyband, the Beatmen and their manager rekindles his hopes.  He may possess the legendary Dragon Voice.  He begins training with the Beatmen, his abrasive personality causing problems, but some how they keep on climbing up the charts.
Dragon Voice is a series I was late coming to, but I'm really glad I did!  A "male version of Jem and the Holograms" doesn't even come close to doing it justice.  The characters have great personalities that don't always mesh well, which only increases the fun.  The situations are a little outrageous, but with some of the Tokusatsu shows that have been seen recently, could a Voice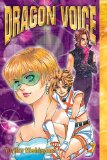 Rangers really be that far out?  Dragon Voice also has one of the best volumes I've ever read.  In volume 7, there is a big battle
of the bands between three groups; The Beatmen, Privee, and Baby Naked.  They are competing for the right to play at Koshien, the big High School Baseball Tournament.  All three bands perform at once, with the audience deciding who's the best throughout the show.  There are twists and turns as the bands struggle to keep a lead, increasing the tension with every chapter.  I was just WOW'ed by the end.
Dragon Voice has been greatly underrated by both Tokyopop and the fans.  It's a fun music based title that doesn't take itself too seriously, so the reader can have fun with the characters.  If you're a fan of music or Tokusatsu then definitely pick this up.
"Ten Inukami,
Nine-tailed Fox Spirit,
Eight Dragon Priestess Guardians,
Seven Dragon Balls,
Six Girl Volleyball Team,
Five Bronze Saints!
Four Friends in Winter,
Three Siblings Cards,
Two Girls named Nana,
And a One Piece for the Pirate King."