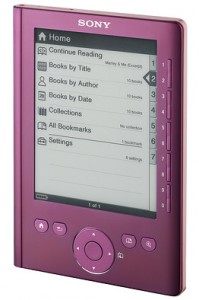 Sony, in an attempt to be competitive with the Amazon and it's Kindle, announced this week it would be releasing two new versions of it e-reader and a price drop on it's books.  The Reader Pocket edition is slightly smaller than the original e-Reader, with a 5 in diagonal screen, and a price point of $199, $100 lower than the Kindle 2.  The Touch Edition will have the standard 6in diagonal screen  and has a touch screen with virtual keyboard.  The touch screen will give the reader a more book like experience with page turns and the ability to highlight and add notes with a finger or stylus.  And Sony will now match Amazon's price on new, bestsellers of $9.99.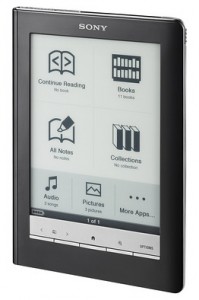 While the drop in prices are nice, and may attract more people to Sony, it still doesn't have a wireless connection.  Users of the Sony E-Reader have to download their books to their computers and then upload them to the E-Reader.  After Amazon's "1984" fiasco, is that really a bad thing?  Sure, it might be convenient to be able to download a book anytime (in the US only), but Amazon has shown it can and will take back books from the Kindle.  Even though they've said they won't do that again, can they really be trusted?
I think Sony marketing should grab up this ball and run with it!  Turn the lack of Whispernet into an advantage, instead of the disadvantage everyone keeps making it.  "The Sony e-Reader: No Takebacks."  Push that the user has control over the device and what goes on, AND comes off it.  I personally prefer to have control over the content I buy and put on the hardware I buy.  I'm enough of an adult to take responsibility for what I download and install, and don't need a "big brother" looking over my shoulder.  If Amazon wants to be another Apple, then Sony should try to be a Google.