I learned about this title from a review on a podcast of the live action j-drama tv series.  My husband and I watched the j-drama and enjoyed it a lot.  It's 11 episodes and was filled with great action and dramatic scenes, and lots of unexpected twists to keep the story moving.  Having enjoyed the j-drama, I had to find out about the manga.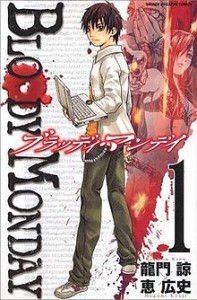 The manga, complete at 11 volumes, is about Fujimaru Takagi, a second year high school student and member of the Newspaper Club.  Unknown to everyone but his father, the PSIA (Public Security Intelligence Agency) and the newspaper club, Fujimaru is also known as Falcon, a prodigy hacker who exposes corrupt people's crimes to make them pay.  The series starts with Fujimaru being recruited by the PSIA to help them decode a memory stick that may have information on an incident in Russia where a segment of the population was killed off by a possible poison gas.  And that gas may be now in Japan.
The story follows Fujimaru as he gets pulled further into the investigation and conspiracy.  His father is accused of murdering his superior.  A teacher at his school is trying to stop him from finding out what's on the chip.  His sister and friends are put in harms way to try and stop him from finding the truth and ending the threat.  There are conspiracies and religious fanatics, and plot twists to make any good mystery thriller proud.  Fujimaru is a great character, who gets pulled in even though he wants nothing to do with it, and just be a normal high school kid.  Both he and his friends react to the threats, the way any normal kid would.  They freak.
This title was published in Weekly Shonen Magazine by Kodansha and ended it's run in December 2008.  But just recently, a second series was announced and it started again in Weekly Shonen Magazine last week under the name Bloody Monday Season 2: Pandora's Box.  With the success of titles such as Monster and Death Note, Bloody Monday would be a great addition to Viz Media's line up, and help bolster the sadly lacking mystery-thriller genre.