When Isabella Swan moves to the gloomy town of Forks and meets the mysterious, alluring Edward Cullen, her life takes a thrilling and terrifying turn. With his porcelain skin, golden eyes, mesmerizing voice, and supernatural gifts, Edward is both irresistible and impenetrable. Up until now, he has managed to keep his true identity hidden, but Bella is determined to uncover his dark secret…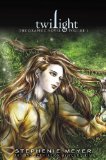 By Stephenie Meyer;
Art & Adaptation by Young Kim
Publisher: Yen Press
Age Rating: Teen
Genre: Supernatural/Romance
Price: $19.99
Rating:






Buy This Book
INTRO:
The book I'm reviewing now is called Twilight: The Graphic Novel Volume 1. I think I regret reading this, and I may never touch it again after setting my eyes upon it. But hey, as long as I'm allowed to bash it for what it is, I'm cool. Anyways, let's talk about what the story is about.
STORY:
The story begins when Bella Swan, a pale and clumsy girl, moves to Forks from the city of Phoenix because her mother had fallen in love with another man after (presumably) divorcing from her father. She is met with a couple of teenagers that try to show her around and befriend her. She seems rather content with this, until she glances over at another table and sees THEM. Them being the Cullens, a family of teens adopted by Mr. and Mrs. Cullen. Every one of them is "chalky pale" and had "very dark eyes despite the range in hair tones." Bella becomes interested with this group, and especially one named Edward. A few days later, Edward finally opens up to Bella and begins to talk to her. She begins to fall for him, but is also confused as to what he really is. She does everything in her way to figure him out, all while she becomes the damsel in distress and he is forced to save her, displaying supernatural powers in the process.
WHAT I LIKED/DISLIKED:
Absolutely NOTHING. There's not anything to really like about this book, story-wise. While I have not read the original Twilight books, the story still makes no sense. The plot doesn't seem to be distinct and the characters don't hold consistency, in my opinion. Graphics-wise is actually alright. The shading and lighting is nice, and the anatomy is correct. There's even bits of color placed in nice places. However, I still don't see why Young Kim, the person that drew the art, would spend her time on this.
RECOMMENDATIONS:
I would not recommend this for anything in the world. To those who've read Twilight and liked it, I'm sure you could find a place for this to go somewhere in your collections. For those who hated it, you could find some… practical use, most likely burning it in the end. But, seriously, from what I've seen and heard about Twilight, this is no better. If you want a good book to read, pick up Hitchhikers Guide to the Galaxy or something, and ignore this completely. It's a waste of time, and just as silly as anyone would expect.
Review copy provided by publisher. Image © Yen Press