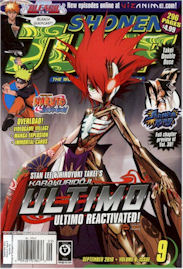 It's a new month, so that means a new Shonen Jump. Too bad there's nothing new inside the pages of this mag. There was nothing new announced at SDCC, which was disappointing to say the least. I was so sure Nura: Rise of the Yokai Clan would have been announced as a new title. Oh well, maybe at NYCC. It was hinted that changes may be coming at the end of the year. I sure hope so. The page count is slightly up this month with a Spotlight chapter on Shaman King, a graduate from these very pages.
The issue starts off with a better organization of their promotion of all the anime titles playing of the SJ properties. It's now divided up by Streaming, TV Broadcast and DVDs. The Naruto TCG and video game info-ads are at the beginning as well, so you don't just skip them after reading the manga. No, if you're like me, you skip them to get to the manga.
This issue starts out with Naruto, and continues the battle between Sasuke and Danzo. It's a lot of sharingan one-upmanship,right up to the very end. Sasuke takes his jutsu to the next level of Susano'o during the battle, and shows his dark side at the end. Honestly, there wasn't anything interesting in this battle as Sasuke and Danzo keep trying to outdo each other. This is the very thing I hate about battle tournament manga. It's also what keeps Naruto on it's downward spiral.
Bleach then steps up with even more prolonged battles. Renji and Uryu are still fighting Szayelaporro. Only now they have to fight duplicates of themselves. Yeah. That's original. Ichigo continues his fight Nnoitora, which is basically him being a punching bag again. This is so Nel can return to her old espada self. While I'm interested in finding about Nel's past, I can't say I have hope it will help the series as a whole.
The shining light in this mostly dark magazine is One Piece, and it really shines this time! Luffy and the escapees from Impel Down interrupt the battle momentarily as they every one regroups and takes on new opponents. The exchange between Luffy and Whitebeard is especially fun, with Luffy being himself as he stands next to the most powerful pirate in the world and telling him not ot get in HIS way. It's just great! There is just too much going on to even explain. You have to read it to believe it! It all ends with Luffy facing off against Hawkeye, a Warlord of the Sea.
Ultimo surprisingly didn't disappoint me this time. Ultimo awakens in time to save Yamato, which turns into a battle between him and Jealousy. Murayama appears to hold them off so that Yamato and Ultimo can go back in time, to the 12th Century to find out what really happened back in that time. Finding out about everyone's backstory has me more interested in the title now. I don't really care about their current reincarnations, but the glimpses to the past have been the most interesting parts of this title so far, so I'm hoping a marked improvement with this jump back in time.
The spotlight title this month is Shaman King. The chapter comes from volume 30, which is nearing the end of the title. It only went 32 total, so hopefully the fight gets resovled before the title does. Though, with talk of a second round starting, that's probably not going to happen. This is a typical hot spring chapter, with everyone wandering about in just towels (no girls in this chapter, btw), including Hao, who pops in to enjoy the spring as well. Yoh, in his typical, laidback fashion, isn't bothered by his rival's appearance. It's a nice filler chapter, and makes me want to catch up on Shaman King.
The issue ends with it's usual Yu-Gi-Oh! free card and strategy article, video game article and brain teaser. For next issue, the spotlight will be on new series Genkaku Picasso, a title some in the mangasphere has been looking forward to. It's drawn by the same mangaka as the ill-fated 51 Ways to Save Her that people were also looking forward to from CMX. That's at least something to look forward to, other than just One Piece.