Another weekend sick meant missing a week of news. Whatever is going around really sucks. My whole department at work was coughing and sneezing all week. Hopefully this post will make up for my absence. We've got new licenses, movie plans, the return of aggregators, "big" changes, more NYCC/NYAF, and some trick or treating from around the mangasphere.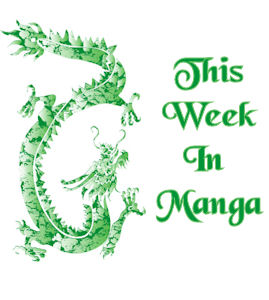 New License Roundup
Even though all the big cons are done, that doesn't stop the manga license news from continuing to come out. And publisher distributors can be a great resource for this information, though not aways completely accurate. The latest comes from Simon and Schuster, Viz Media's distributor. Blue Exorcist was spotted there for release next April 2011. There's been no official announcement, and showing up on a distributor site isn't a 100% guarantee, but the track record is good enough to give this some serious consideration. It's another supernatural title with the main character being the son of Satan who decides to fight his fate and become an exorcist  and defeat demons. Sounds like it might have some potential.
In more official news, Digital Manga has just announced it has licensed 4 new titles. Three are BL;  Border volumes 1-3 by Kazuma Kodaka, Bad Teacher's Equation volumes 1-5 by Kazuma Kodaka, and Blue Sheep Reverie volume 4 by Makoto Tateno. The last is a novel, Demon City Shinjuku: The Complete Edition by Hideyuki Kikuchi. DMP has obviously created a great relationship with Kikuchi as they release more of his titles.
Live Action Pluto?
It's being reported that Universal Pictures and Illumination Entertainment have bought the rights to Pluto, the manga series by Naoki Urasawa based on the Astro Boy story "Greatest Robot On Earth". It's planned to be a live action/CGI hybrid, but that's not much of a surprise. There's no other way to do this as a live action without CGI. As awesome as this news sounds, there's no guarantee it will go anywhere. Battle Angel Alita anyone? I'll believe it when I see the commercials on TV. It would be really cool though, as long as Hollywood doesn't screw the story up. This is Hollywood. You know they can and would.
Big Changes Touted at Viz
Twitter is a great place to get some hype going, and that seems to have been just what Viz was doing when it announced on it's three feeds that "huge changes" were coming. Speculation abounded immediately as people threw in their 2 cents as to what it could be. It ranged from more simultaneous releases, possibly of Naruto or One Piece, to some kind of online initiative. A week has passed since that announcement, and nothing has been said since. My first thought was that it would have something to do with Shonen Jump. Back at SDCC, Viz promised a big announcement in the December issue of SJ. I was hoping for a new title license in the magazine. But that issue will start going out to subscribers in the next week or so, with the issue being released in the first week of November.
And it seems that was the right answer. Lissa of Kuriousity broke on her blog that the newest issue of SJ has an announcement that digital supplemental material will be available to Shonen Jump subscribers. The details seem to be sparse in the mag, but it appears that additional titles may be available for SJ subscribers to access online. It's not quite what I hoped for, but at least it's not another iPad app announcement.
Foxy Aggregators
Manga Fox, one of the big manga scanlation aggregators is back in business. After announcing they would stop posting scans, they have returned, with new chapters of titles Naruto and One Piece, and a warning, that any attempt to shut them down by users will result in them getting banned. This really shouldn't surprise anyone. The manga publishers started out with the right idea, but they are taking too long to implement it. To really stop sites like this, you have to both shut them down and offer a reasonable alternative. The second part hasn't happened, and as long as it doesn't, sites like Manga Fox will continue, with servers outside of the US and Japan. I'm sure the money is just too good to give up. It's sad too, because that could be money going to publishers and artists.
More NYCC/NYAF: GLBT Panel
The panel that was the talk of the mangasphere at NYCC/NYAF was the GBLT panel: Gay For You: Yuri and Yaoi manga for GBLT Readers. Gay, lesbian and straight manga experts and readers got together to discuss yaoi and yuri manga from the gay and lesbian point of view. The panel features some lively discussion and was very popular among attendees. Now, you can read the entire transcript thanks to Deb Aoki of Manga.About.com. She also includes the recommended reading list put together by the participants. Whether you're interested or not in yaoi and yuri manga, this will be no doubt be  an entertaining read.
Halloween Bloggery
T'is the season, not to be jolly but scary! I've been posting Halloween related titles and articles all month, and as Halloween grows closer, other blogs have joined in on the fun! Over at Mania.com, there is a list of the top 10 scariest manga you haven't read, and I have to say they are right. I haven't read most if not all of those titles. I like spooky and a little scary, but not gory. Over at the Manga Critic, Kate Dacey lists her favorite Spooky manga. At Kuriousity, Shannon Fay has been posting reviews of 13 manga she feels best represents the spirit of the holiday.  Melinda Beasi dedicates her 3 Things Thursday to her favorite ghost hunters. Check all these out to get in the proper mood for spooking some little monsters that may come to your doorstep this Halloween.
A Trick or A Treat?
Shortly after Viz made their cryptic "big changes" tweet, this rumor reared its ugly head, and quickly became the center of speculation. Bleeding Cool reported that Akira Toriyama would return to the world of Dragon Ball with the series Dragon Ball AF. There are no quotes in the article, nothing to verify it, but with Toriyama popping up recently doing short stories with Goku, it's easy to believe this rumor. There was one refutation of the rumor from Marc Bernabe of the Masters of Manga blog which was posted to his twitter account. As nice as this sounds, and it could be a shot in the arm for manga in Japan, and here (if released simultaneously), I have grave doubts about its truth. Toriyama retired, and there's a big difference between doing the occasional short story and trying to keep up a weekly schedule. I won't hold my breath on this becoming reality any time soon.
NYT Best Seller List
It's two weeks worth of list this week. Twilight has fallen off the Hardback list again, for two weeks in a row. Has it finally run out of steam? We'll have to wait and see when Holiday shopping gets into full swing. Odd is on Our Side holds on to the paperback list, as it falls first to #7 and the to #10. Over on the manga list, the top 5 is identical for the last two weeks. Naruto vol 49 is at #1. #2 is Black Bird vol 6. Hetalia: Axis Powers vol 1 is at #3. Yu-Gi-Oh GX vol 5 is at #4 and Maximum Ride vol 3 is at #5. Inuyasha vol 53 comes in at #6, but is kicked off the next week by the world's cutest kitten, Chi's Sweet Home vol 3. One Piece vol 55 debuts at #7, but is sunk by the young boy detective Conan with Case Closed vol 36. Bleach vol 32 holds on to #8 for both weeks while Dengenki Daisy vol 2 first falls three to #9 before it's marched off so Alice in the Country of Hearts vol 4 can move from #10 to #9 and March Story vol 1 can take over #10. The top 5 isn't too big of a surprise. All of the titles are proven popular titles. Chi's debut at #3 is a little bit of one though, but it's great to see it continue to prove itself to be a top seller. Maybe this will mean more pet manga!
Manga For Your Ears
Manga Out Loud
Sesho's Anime and Manga Reviews
Spiraken Manga Review
This Week at Manga Village
What I'm Reading
Bunny Drop vol 2
Maoh: Juvenile Remix vol 2
Story of Saiunkoku vol 1
Apollo's Song Part 1
Dark Hunters vol 2