The western new year has come and gone, but over in the Asian world, their new year starts this week. With the Chinese New Year come a new animal in the zodiac. This year is the cute and cuddly rabbit. I have already written a post featuring rabbits for Easter, so for this one, I have expanded the scope from just real rabbits to anyone rabbit-esque.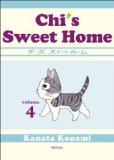 Chi's Sweet Home – In volume 4 of this series, Chi and the Yamadas move from their old apartment to one that is pet friendly. As they go around introducing themselves to the neighbors, they meet Furukawa who owns a rabbit named Mi-chan. The encounter is rather funny, as Chi tries to talk to Mi-chan, who completely ignores Chi, and just continues to groom his ears. He really throws Chi for a loop.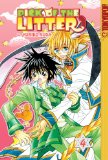 Pick of the Litter – Riku is a 15-year-old boy who lives in Tokyo with no memory of his past. He turns out to be from a neighboring dimension called Yamato and has several siblings. One of them is a boy named Futaba who appears most of the time as a boy with rabbit ears. He doesn't speak in this form, and writes to communicate. He is often harrassed by crows, and is in constant need of rescuing, usually from something that wants to eat him.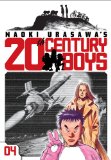 20th Century Boys – At the end of the 20th century, Kenji Endo learns that someone is recreating a story he and his friends came up with then they were kids. He tries to stop to the plans of Friend, the man behind the attacks. He is branded a terrorist and must go into hiding, but he doesn't stop fighting. He finds a way to move around in public without being recognized, by taking a job advertising for a "sensual massage" parlor, dressed in a pink bunny suit.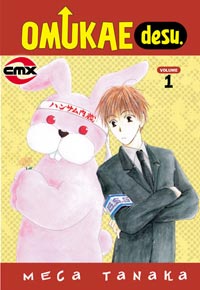 Omukae Desu – Madoka Tsutsumi can see the dead. He is hired by a myerstious agency, known as the G.S.G., that ushers the recently departed to the afterlife. Madoka first encounts the G.S.G. when he sees Nabeshima, wearing a large, pink, bunny suit that is supposed to put the ghosts at ease, having an argument with an old man who turns out to be Madoka recently deceased neighbor. Despite this setback, Nabeshima continues to wear the suit through the first volume.
Do yo know of any other manga with rabbits or rabbit costumed characters? Leave a comment and let me know!