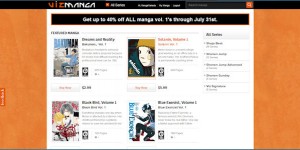 Viz announced it at the party at San Diego Comic Con and on their twitter feed. Their digital manga is no longer held hostage in the i* world. You can now buy and read Viz's digital manga online! Yes, you heard me! Everything they've been announcing that I've been ignoring because it's only been for iOS users is now free to be enjoyed by everyone with access to a browser, so that includes mobile devices as well as PCs. As long as your device can run Adobe Flash Player, you've got manga in your pocket!
This is the equality and freedom that manga needs to be really be successful in the digital realm. And Viz is doing it right. This month, all number 1 volumes are 40% off, which puts them at $2.99 a piece, and newer volumes are $4.99-$5.99.  This is about half the price of print manga which puts it in just the right range, especially since it can be accessed from anywhere, making it about as portable as you can get.
What really makes this appealing though is the space issue. It's one that's been seriously on my mind for a while now. I NEED to let go of a lot of titles, because I really just don't have the space anymore. Especially as I catch up on older titles and try to keep up on newer ones.  The problem of course is, which titles do I love enough to keep in paper, and which  do I let go of to take up digitally? And it's a problem that will take some thought. But finally having a real option to make those decisions makes it easier to do.
So, where should I start? Beast Master and Backstage Prince are short titles I've been thinking about. Children of the Sea is really tempting too. I've never read Ouran High School Host Club, but Alex of Manga Widget keeps trying to get me to read Cross Game. Where should I start?