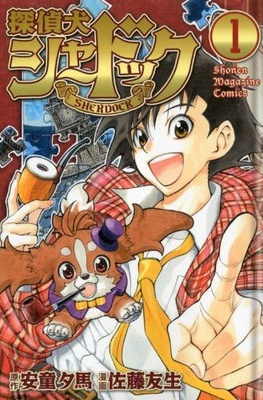 I check out Baka-Updates Manga for occasionally for new and interesting titles. When I see an interesting title, I throw it into my wish list so I won't forget it. This site is especially helpful for License Season at Vertical. I few weeks ago, I saw a title go by that made me raise my eyebrows and even comment about it on Twitter; Tanteiken Sherdock. I was attracted to it because of the "tantei" in the title, denoted this as a detective series. But when I clicked on the link, I was surprised to find what it was about! Sherlock Holmes is re-incarnated as a talking dog! His Watson/side kick is a high school boy named Takeru Wajima, who can understand him for some reason. I thought it was silly, but not to surprising considering the interest in Sherlock Holmes lately.
Imagine my surprise when I learned yesterday that Kodansha Comics has licensed this for the US! I was stunned, but in a good way! I've been bemoaning the fact that there aren't a lot of good detective titles available in English. Detective Conan/Case Closed and Young Miss Holmes are about the only ones that come to mind. I'm thrilled that there will be another great detective roaming the bookshelves out there. Another reason to celebrate is the writer of the series. Yuma Ando is a pen name of Shin Kibayashi, who also penned Kindaichi Case Files, another detective series that I miss dearly. I loved Kindaichi, so I have high hopes for this series as well.
So, if Watson can become a female, why can't Sherlock become a dog? He's a cute dog too. Springer Spaniel by the looks of it. I'm thrilled that this series is coming to our shores and can't wait for September to get here!