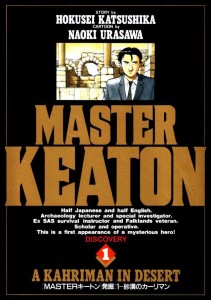 What wonderful news to come home to! Viz Media has licensed Master Keaton the one manga from Naoki Urasawa that I've wanted ever since I first heard about it. It combines two of my most favorite things in the world into one title; mysteries and archaeology! I mean, how awesome is it to have a detective who can solve cases and is an archaeologist, always struggling to uncover the truth.
I didn't think we'd ever get this title licensed in English. It had a few hurdles to get over for licenses today; it's from the 1990s and is over 10 volumes. Then there was a disagreement over credits for the story, which actually sounded pretty petty of Urasawa to demand his name appear bigger than the original writer. But it looks like that problem has been solved, and Urasawa's name is now known in the US. His work will sell no matter how old it is.
Another thing that will make this a big seller is that it hasn't been scanlated by anyone beyond the first few chapters. Trust me, I've looked. The only way to enjoy this series previously was the anime licensed by Geneon back in 2003-04. I was lucky enough to be able to pick them up at Rightstuf. With this being the first time the manga is available in English in any format, that will guarantee sales.
It looks like Viz's edition will be an omnibus of some sort as the original run was 18 volumes and Viz is soliciting this as 12. As part of the Viz Signature line, it is getting the deluxe treatment with 18 color pages , and will retail for $19.99 US. I don't care. This is a series I have to own, and will pre-order. If only we didn't have to wait until December! I want my Master Keaton noooowwwwwww!