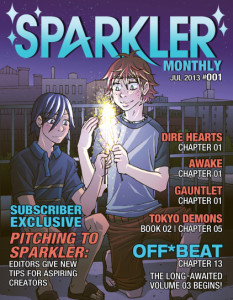 It was one year ago that I first spoke about Sparkler Magazine, mentioning it as one of the stories on my podcast. It was just one of the news stories, but I used the cover of the premiere issue as my featured image and got the attention of the editors, which got me a  review copy, and the issue an in-depth look on my next podcast.
I really enjoyed that first issue. Back then, the issue was broken down into 6 features; two manga, Dire Hearts and Off Beat, two prose novels Gauntlet and Tokyo Demons Book 2, an audio, Awake, and a subscriber only feature. Dire Hearts was very intriguing. Gauntlet was heart-pounding. Awake set up a great sci-fi thriller. I enjoyed the magazine and digital format so much that I dropped my subscription to Yen Plus, and picked up Sparkler, even though Sparkler cost more. But I was getting more of what I wanted and enjoyed with it.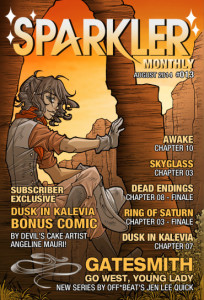 Twelve months of updates later, a lot has changed. Dire Hearts sadly has to go on hiatus due to health issue for its creator Christy Lijewski. Off Beat, then Gauntlet and Tokyo Demons Book 2 ended. Plenty of new titles have taken their place. Dead Endings, Dusk in Kalevia and Skyglass joined as regular prose titles. We started to see short stories as well with The Maiden and the Fish in prose, and Dinner Ditz, Before You Go and Rings of Saturn in Comics. With the start of Year 2, new titles Windrose and Gatesmith have joined as well. The have forums on the site where readers could not only talk about their favorite series', but subscribers had access to the editors who would answer questions about writing and drawing, and they would post articles to help creators improve in areas they saw as weak in the submissions they got. Because they openly accepted submissions. Certain months were dedicated to a different form, comics, prose, and audio.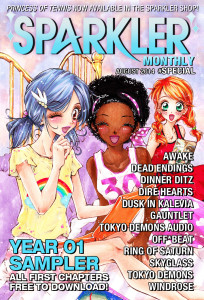 The key to this venture succeeding though, is dependent on its readers; getting subscribers. As the magazine moves into year 2, the editors have laid things out for us. They need 2,000 people subscribing at least $5 a month to keep the magazine going past this second year, so their running a membership drive. That's really not a lot of money. What's the comparison that always gets thrown out? The same as a cup of Starbucks coffee? It should be easy to skip on cup a month to give these women who are working to provide us with something few other publishers are; a magazine focused on the female gaze. They've done some great work so far, and really deserve the chance to keep doing more. Not so sure about that? There is a sampler issue available for download for free that features the first chapter of every series available so far.
And they are making it worth your subscribing while. They have dropped the full year price to $50 and thrown in a free eBook from their shop, and added a new tier, VIP that can download every chapter of every series anytime for a yearly price of $125. And like a kickstarter, for every subscriber goal met, new perks open up, such as raffles, dropping the paywall, adding more title slots and even a video game!
But even with all the perks, really, you should just subscribe for the content. It really is great and there is so much variety that just about anyone will find something they enjoy. And with support there can be even more.